Allergan Partners with Urine Incontinence Treatment Company
Allergan is conducting clinical trials for a Botox-based bladder treatment, using a sustained release gel developed by Israel-based UroGen
Allergan Pharmaceuticals International Ltd., a wholly owned subsidiary of Allergan PLC, has started a phase 2 clinical trial for the treatment of overactive bladder. The trial will combine Botox with a sustained release gel called RTGel, developed by Nasdaq-listed UroGen Pharma Ltd., a clinical stage company developing non-surgical urology treatments.

RTGel is a temperature-sensitive substance that changes from a liquid to a gel when it reaches body temperature. These properties enable a slower release of drugs in the body when mixed with the gel. Botox is already in use for treating overactive bladder, since it relaxes the nerves that over-stimulate the bladder muscles and lead to frequent urination.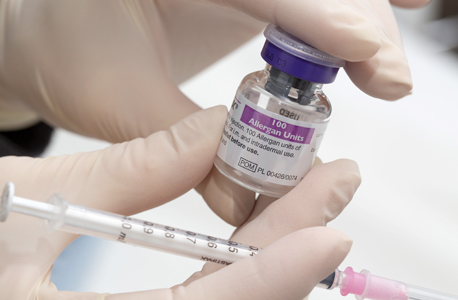 Allergan's Botox

The current trial will enroll up to 335 patients with overactive bladder who have an unsatisfactory response to current pharmacologic treatments. Patients will receive a single RTGel-Botox bladder instillation. Bladder instillation is the process of introducing drugs into the bladder using a catheter under hospital monitoring.

Israel-based UroGen first announced the collaboration with Allergan in October 2016, when Allergan licensed the worldwide rights for RTGel. As part of the agreement, Allergan made an upfront payment of $17.5 million as part of the deal. UroGen is eligible to receive up to $200 million in additional payments following certain milestones, and is also entitled royalties.

In July, UroGel received $7.5 million from Allergan after the latter submitted an application for RTGel to the U.S. Food and Drug Administration, for a specific Botox-based bladder treatment. The gel was designed to work with multiple active pharmaceutical ingredients.

UroGel's stock has risen by 165.7% since the company's Nasdaq initial public offering in May. Arie Belldegrun, the founder of cancer treatment company Kite Pharma recently sold to Gilead Sciences Inc. for $11.9 billion, sits as UroGel's chairman of the board.