Collplant Secures $7.4 million in Private Placement
Over the past three months, the TASE-listed regenerative medicine company submitted several filings regarding investments made by private investors
Regenerative medicine company Collplant has secured around $7.4 million in private placement, according to a number of filings submitted by the company to the Tel Aviv Stock Exchange over the past three months.

For daily updates, subscribe to our newsletter by clicking here .

Established in 2004 in the greater Tel Aviv area, Collplant develops and manufactures medical treatments using a special plant-based collagen. Collagen is a type of protein that is found in nearly every part of the body. The company combined human genes and tobacco plant DNA to create plants from which human collagen can be harvested.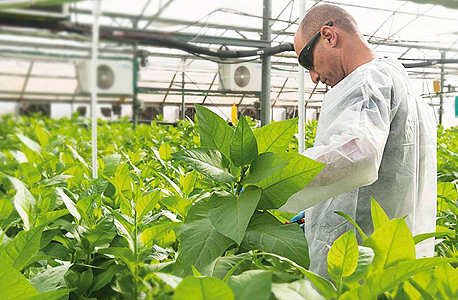 Collplant's tobacco plants
In June, Collplant filed a patent application in the U.S. for a collagen-based bio-ink intended for "3D printing of tissues and organs." The company is currently negotiating collaborations with companies in the organ printing industry to establish its ink in the market.
On Sunday, the company announced a private placement agreement worth $1.05 million with Ami Sagi, father of London-based, Israeli-born business magnate Teddy Sagi. On Thursday, the company announced another agreement with Israel-based investment company Meitav Dash Investments Ltd., for $1.34 million.
In September, Collplant reported a private investment agreement of $5 million signed with Lichtenstein-based Alpha Capital Anstalt, controlled by Austrian business magnet Martin Schlaff. As part of the agreement, Alpha Capital can recommend three board members for Collplant's board of directors.