Collplant Takes a Step Towards 3D Organ Printing
The Israel-based company develops collagen-based biological ink for 3D organ printing
Regenerative medicine company Collplant is negotiating collaborations with companies in the organ printing industry to establish its new biological ink in the market. In June, Collplant filed a patent application in the U.S. for a collagen-based bio-ink intended for "3D printing of tissues and organs." On Sunday the company announced a six-month work plan for the development of an orthopedic implant prototype using its bio-ink, in partnership with "one of the leading medical devices company in the world."

Collagen is a type of protein that is found in nearly every part of the body. Collplant developed plant-based human collagen by combining human genes and tobacco plant DNA to create collagen-making tobacco plants. Already used in the company's existing tissue repair products, their collagen is also the basis for the new bio-ink. This ink enables the printing of 3D constructs with varying physical and biological properties and is compatible with 3D bio-printing technologies, according to the company.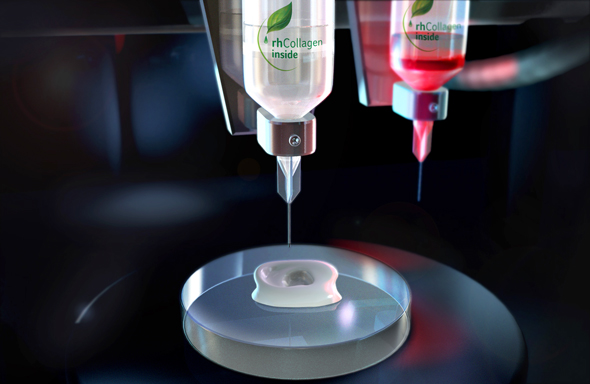 Collplant bio-ink

Established in 2004 in Ness Ziona, 11 miles (17 km) south of Tel Aviv, the company has 38 employees listed on LinkedIn. Collplant is traded on the Tel Aviv Stock Exchange at a market capitalization of $22 million.

Last month, the company signed a first supply agreement with an unnamed "large biotechnology company." The ink will be used for the printing of life-saving organs, the company said in an announcement. Life-saving organs are organs like heart, liver, kidney, and lungs. Skin and corneas, for example, are not considered life-saving organs.

According to UNOS, the united network of organ sharing, 20 people die every day while waiting for an organ transplant in the U.S. alone. Artificial organs have been touted for quite some time as a possible answer to the organ shortage. According to a 2016 report published in the journal Current Transplantation Reports, 3D-bioprinted bladders, bone, and cartilage have already proven to be functional after development and implantation in animal models and humans.