Israeli Venture Capital Fund JVP Promotes Fiona Darmon and Yoav Tzruya to General Partners
Fiona Darmon was a founding member of Koor Corporate Venture Capital, Israel's first corporate venture capital. Yoav Tzruya has served as JVP partner and head of the JVP Labs in Be'er Sheva
Israeli venture capital fund Jerusalem Venture Partners (JVP) has promoted Fiona Darmon and Yoav Tzruya to general partners and members of the fund's executive committee, JVP announced Monday.

For daily updates, subscribe to our newsletter by clicking here .

Fiona Darmon was a founding member of Koor Corporate Venture Capital, Israel's first corporate venture capital, and held a variety of executive roles at Israeli investment conglomerate Koor Industries. She has over 15 years of experience in a variety of private equity and venture capital investment roles. Ms. Darmon joined JVP in 2009.

Yoav Tzruya has served as JVP partner and head of the JVP Labs in Be'er Sheva, a desert town in Israel's south. Mr. Tzruya instrumental in PayPal's 2015 acquisition of JVP-backed CyActive.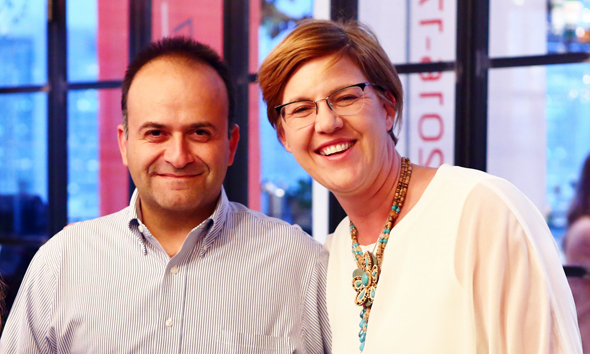 Yoav Tzruya (left), and Fiona Darmon (right), general partners at JVP

Erel Margalit, JVP founder and chairman, said in a statement that Ms. Darmon and Mr. Tzruya served as "key drivers in promoting Israeli innovation and investment development, as well as scaling and building companies from seed to growth."

Mr. Margalit added that Mr. Tzruya has expertise in the fields of cybersecurity, data analytics, and AI and that Ms. Darmon is one of the key woman voices in Israeli tech, and will help to leverage Israeli innovation globally.

Last month Mr. Margalit, then an Israeli parliament member representing the Israeli labor party, announced his retirement from political life. In a Facebook post published on October 3, Mr. Margalit said he would return to his role as Chairman of JVP.

Founded in 1993, JVP has invested in over 120 startups, including video monetization company AnyClip Ltd., Mobile engagement company Celltick Technologies Ltd., and AI-based consumer insight company Aspectiva Ltd. The venture fund also established the JVP Media Quarter, a Jerusalem-based new media and technology incubator. JVP currently manages assets valued at over $1 billion.