Content Recommendation Company Outbrain Appoints Co-CEO
Newly appointed David Kostman has been a member of the company's board since 2014. He is also chairman of the board of cybersecurity company NICE
New York-based online content promotion company Outbrain Inc. is appointing David Kostman as co-CEO, the company announced Wednesday. Mr. Kostman will join current CEO and Co-Founder Yaron Galai.
For daily updates, subscribe to our newsletter by clicking here .
Mr. Kostman has been a member of the company's board of directors since 2014 and will continue in the role. He is also chairman of the board of cybersecurity company NICE Systems Ltd., and a director at several companies including adtech company IronSource Ltd.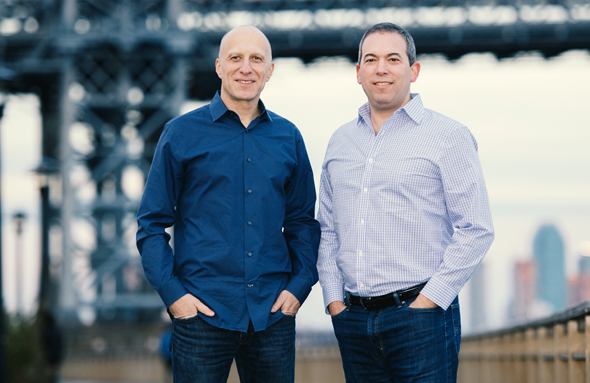 Left to right: David Kostman and Yaron Galai
Founded in Israel in 2006 and now headquartered in New York with several global offices, Outbrain provides a content promotion service to online advertisers. The advertisers' links are placed in or near the main content in a publisher's site, enticing users to click with captions like "you may also like this" or "number 5 will shock you." Outbrain pays the publishers for the space or their site, and is paid by the advertisers when visitors click on the sponsored links.
Outbrain is currently one of the biggest players in its domain, alongside Taboola.com Ltd., working with publishers like CNN, Sky News, Fox News, and The Guardian.
"Our business is big and growing, and we need to invest a lot of attention in it," Mr. Kostman told Calcalist in an interview Wednesday. "There are a lot of opportunities no one is looking at. The current business and what the future will look like in five years are very far apart. Publishers aren't as successful as Facebook nowadays, and this is our opportunity to govern our existing business and reinvent the market."
"David brings a lot of experience in managing large companies, and I bring my own strengths, which are innovation and reinventing the market," Mr. Galai told Calcalist. "One of the things I want to do with the company is to be more present in the market, in conferences, and be more active. I don't intend to retire from the company anytime soon; on the contrary, I intend to invest a lot more in it."
Outbrain's operations are growing at a double or even a triple rate in some of the markets, Mr. Galai added.
According to LinkedIn data Outbrain employs around 640 people, and the company's workforce decreased 5% over the last year.
On Tuesday, Seattle-based market research company Pitchbook Data inc. said the U.S. adtech industry is experiencing a decline in venture capital investments, writing that 2017 was "on pace for the smallest deal count and least amount of venture investment in the U.S. since the beginning of the decade." This is contrary to adtech M&A, which is "on pace for the highest deal value in a decade" this year. The market is experiencing a consolidation, the company added, as large companies acquire or force out smaller companies.
Outbrain has made five acquisitions to date, the latest of them being Slovenia-based native advertising company Zemanta in July.