Mobileye Might Come Under Israeli Comptroller Review
Last March, Israeli authorities published new directives which would require all new cars imported to Israel to include driving assistance systems
Last March, Israeli authorities published new directives which would require all new cars imported to Israel to include driving assistance systems. Since then, complaints lodged with the comptroller alleged that people affiliated with Mobileye were directly involved in the drafting of the new requirement, according to people familiar with the matter who spoke on conditions of anonymity.

For daily updates, subscribe to our newsletter by clicking here .

The state comptroller, an Israeli government watchdog, said in a comment to Calcalist that it has received complaints and might consider looking into the issue in the future.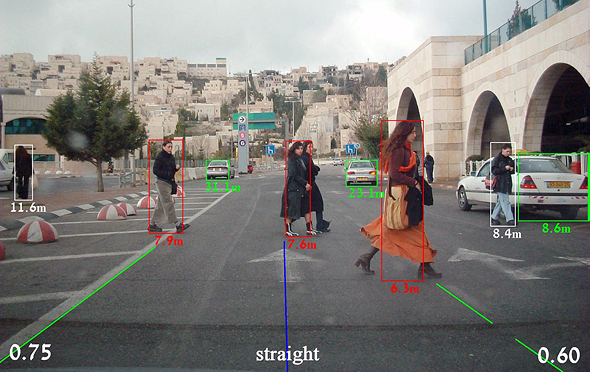 Mobileye's technology

In March, a few days after Intel announced its $15.3 billion acquisition of Jerusalem-based Mobileye, the Israeli Ministry of Transport and Road Safety announced new directives that would require all imported vehicles to include anti-frontal collision sensors and lane departure alert systems after January 2018. In a current reply to a request for comment by Calcalist, a spokesperson representing the ministry said that such systems are pre-installed in 80% of all cars imported into the country.

At the March press event in which the directive was presented, Mobileye's co-founder and then-CEO Ziv Aviram sat next to Israeli Minister of Transportation Yisrael Katz. "The first time I met Minister Katz, I told him about safety systems," Mr. Aviram told the press at the time, "he immediately understood and took up the mantle of combating traffic accidents." A ministry spokesman said that the new regulations were unrelated to the Mobileye deal and were decided upon a long time before.

In September the ministry published an update to the directives, stating that each vehicle safety system will receive tax deductions based on certain criteria. One such deduction is awarded to a system that identifies traffic signs and displays the legal speed limit accordingly. Only Mobileye's system fits the bill; the other two systems display only the current deviation from the speed limit and are therefore not eligible for that specific reduction.

Other than Mobileye, two other companies are licensed in Israel to install such systems, Seoul, Korea-headquartered Movon Corporation and Tel Aviv-based Awacs.

Mobileye declined to comment.

In reply to a request for comment, a spokesperson representing the Israeli Ministry of Transport said the new regulations pertain pertaining to "life-saving systems," and that the implementation of regulations requiring the installation of such systems in buses and trucks in the country, has already led to a decline in road accidents involving these vehicle categories. The spokesperson further added that at no stage "was the ministry influenced by lobbyists while deciding on the directives," and that no preference was given to any vendor at any stage in the process.