Shenzhen-listed Pharma Company to Acquire Tel Aviv-based Medtech Company IOPtima
The Chengdu Kanghong Pharma Group will buy Tel Aviv-based IOPtima in four stages, the latter announced Tuesday through its parent company listed on the Tel Aviv Stock Exchange
Shenzhen-listed Chengdu Kanghong Pharma Group Co. Ltd., a China-based pharmaceutical company with a market capitalization of around $6.5 billion, will acquire Tel Aviv-based medtech company IOPtima ltd. in four stages, the latter announced Tuesday through its parent company listed on the Tel Aviv Stock Exchange.

For daily updates, subscribe to our newsletter by clicking here .

Established in 2002, IOPtima develops minimally invasive eye surgery devices. The company's flagship product, IOPtimate, is a laser-based a surgical system for the treatment of Glaucoma, a group of diseases that damage the optic nerve and result in blindness.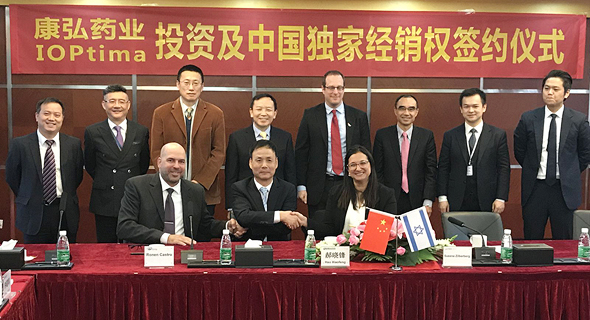 Sitting, left to right: IOPtima's CEO Ronen Castro, Chengdu Kanghong Pharma's Chairman of the Board Zun Hong Ke, BioLight's CEO Suzana Nahum-Zilberberg

BioLight Life Sciences Ltd., the parent company of IOPtima, announced the acquisition Tuesday, stating the first stage will see Chengdu Kanghong Pharma buy 19% of IOPtima's fully diluted stock for $7 million, according to a pre-funding value of $30 million. Chengdu Kanghong Pharma's board of directors announced its intention to invest in the company in October in a filing to the Shenzhen Stock Exchange.

The deal's later stages will see Chengdu Kanghong Pharma buying out IOPtimate's current shareholders.

According to Chengdu Kanghong Pharma's filing, XL Vision Sciences Ltd., a fully owned subsidiary of BioLight, owns 68.258% of IOPtima's stock. Taiwan-based Diamond BioFund Inc., a biotech-oriented investment firm with over $260 million in assets, holds 14.2% of the Israeli company. Diamond's Vice-president Yen Chen Huang sits on IOPtimate's board of directors.

9.48% of IOPtimate's stock is held by Dalian Sino-Israel Biomedical Investment Centre L.P., a joint venture of Chinese-Israeli venture firm Infinity Group and Dalian-based asset management firm YuHuaShangHe Investment Management (Dalian) Co. Ltd.

The deal is a milestone in the company's efforts to increase its product range, Chengdu Kanghong Pharma's Chairman of the Board Zun Hong Ke said in the announcement by BioLight.