Dropbox Expands Operations in Israel, Leases Offices in Azrieli Sarona Tower
The company signed a 10-year lease at the Tel Aviv tower where Facebook and Amazon also have offices
San Francisco, California-based cloud storage company Dropbox, Inc. is expanding its activity in Israel and moving to new offices at the Azrieli Sarona tower in Tel Aviv, the company's Israel site and a representative of the building's real-estate developer said in interviews with Calcalist.

For daily updates, subscribe to our newsletter by clicking here.

"Dropbox's research and development center has been growing steadily in recent years," Meir Morgenstern, Dropbox Israel site lead, said in an interview with Calcalist. "This trend will continue in 2018. The move into Azrieli Sarona will allow us to attract the leading talent in Israel and allow our teams to work together seamlessly," Mr. Morgenstern added.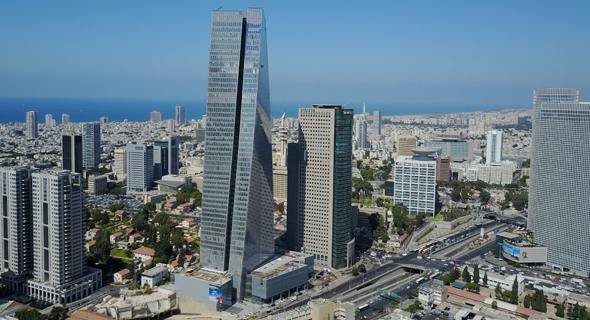 Azrieli Sarona Tower. Photo: Yair Sagi

Dropbox signed a 10-year lease for a 20,000 square feet (1,875 square meters) office space on the 44th floor of the Azrieli Sarona tower for over $9 million (NIS 33 million), the real-estate developer's representative said.

The new office is four times larger than Dropbox's current offices in Herzliya, 9 miles north of Tel Aviv. Dropbox first opened an office in Israel in 2015 after it bought Israeli startup CloudOn. Dropbox currently employs a few dozens in Israel.

Set to open in 2018, the Azrieli Sarona office tower has already attracted powerful tech multinationals such as Amazon, and Facebook. Facebook has leased seven floors in the tower for around $390 thousand a month, or $4.7 million a year. Amazon leased ten floors — over 240,000 square feet (22,500 square meters) — in a five-year lease contract for $10.5 million a year.

Other international and local companies such as Citibank, IronSource Ltd., SimilarWeb Ltd. and the shared office space startup Labs have also rented offices there.

Azrieli Sarona tower is one of the most expensive real estate projects in Israel, built for over $426 million (1.5 billion NIS), and at over 830-feet (255 meters) tall, it is also the country's tallest tower. Months before its opening date, 95% of the new office tower has already been leased, at an average price of $29-$35 per square meter.