Mind the Data
How Data Will Help Make Driving a Deeper Experience
Adi Ofek, head of Mercedes-Benz's new research and development center in Tel Aviv, spoke at Calcalist's "Mind the Data" conference Monday
"When I enter my car, I'm in a world of my own," said Adi Ofek Monday during Calcalist's "Mind the Data" conference, held in Tel Aviv. Ms. Ofek is the head of Mercedes-Benz's new research and development center in Tel Aviv, which opened last week.

For daily updates, subscribe to our newsletter by clicking here.

"In the future, the car will wrap the driver up in an ecosystem," Ms. Ofek said. The autonomous car will become our personal space, and smart mobility will enable the creation of a personal relationship between people and their vehicles, providing comfort, safety and support, and freeing up time that's now used for driving.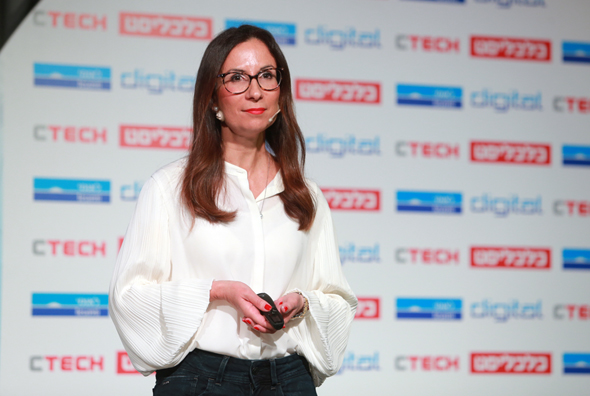 Adi Ofek. Photo: Oriel Cohen

"The world is changing at an extremely fast pace; cars are becoming integrated with smart cities. Big data will be the fuel of the future," she continued. "I want to imagine an experience where I can get up in the morning, get ready for work, and my car is waiting for me at my front door after charging overnight, already playing my favorite music."

Safer and more relaxing car rides, smart vehicles that can take the kids to school on their own, cars or even drones that can deliver things and pick up dry cleaning—"Those are real dreams that will be made possible by autonomous vehicles," Ms. Ofek said.

Cars will become aware of what's happening both inside the cabin and outside the car's surroundings, Ms. Ofek added. The vehicle will know what music or movies people like and respond accordingly, while on the outside the car will be aware of other vehicles, traffic lights, and data transferred from the cloud.

This huge amount of data needs to be processed in real-time. Today, a vehicle cannot transmit all the data it records to the cloud, and so there is necessarily a choice regarding what data is most important. "Analytics are very important. For every aspect, we want to know what happened in the past and what is happening now, so we can forecast what will happen in the future." Future cars will make daily decisions regarding the preferred route, the optimal speed for energy conservation, and the data the car will record along the way. Safety will also be a big focus.

As to the characteristics of the vehicles of the future, Ms. Ofek said Mercedes-Benz decided on a holistic approach, called CASE, which stands for Connected, Autonomous, Shared and Service and Electric Drive.

"Without data our strategies can't exist. Data is essential," Ms. Ofek said.