Mind the Data
It's Not About Getting the Data, It's About Making the Data Valuable, Says Rafael Executive
Brig. Gen. (Ret.) Ariel Karo, Head of Rafael's Intelligence and Cyber Directorate, spoke at Calcalist's Mind the Data conference in Tel Aviv
Brig. Gen. (Ret.) Ariel Karo, Head of the Intelligence and Cyber Directorate at Israeli defence technology company Rafael Advanced Defense Systems Ltd., discussed Rafael's cybersecurity system at Calcalist's "Mind the Data" conference in Tel Aviv on Monday.

For daily updates, subscribe to our newsletter by clicking here.

Mr. Karo said that the system, called the "Philosopher's Stone," is able to gather information from multiple sources, analyze and store it. "We decided to develop a platform that is based on intelligence agencies' most advanced tools, and we added elements we thought were missing," he said.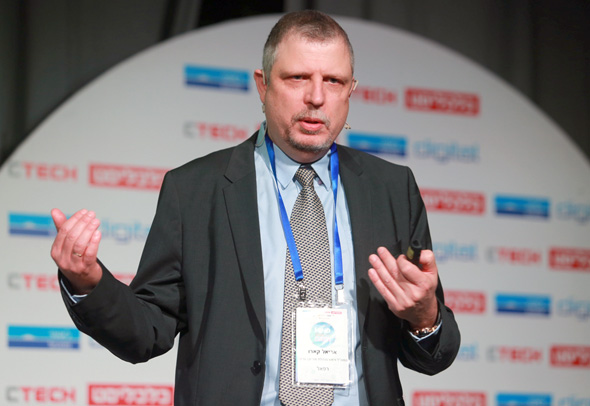 Ariel Karo. Photo: Orel Cohen

Mr. Karo added that the problem tech companies face now is not obtaining data, but rather producing valuable input from the data they gather. Today, the ease with which data can be gathered might be Big Data's main obstacle, he said. "If we cannot sort and direct the data we may create information congestion," he added.

A former chief intelligence officer in the Israeli Defence Force, Mr. Karo said that Rafael brings military know-how and experience to products designed for the civilian market. "The greatest fear of any company is that it can not protect its secrets," Mr. Karo said. That fear, he added, makes it difficult for companies to collaborate, even in cases where collaboration could lead to meaningful profit and added value. This is why data protection and classification technologies are so important, he added.