Clutching at $20-billion Chinese Loan, Guinea to Drop Graft Claims Against Israeli Billionaire
Beny Steinmetz's BSG Resources will be allowed to restart its iron mining operation in the country, a person close to the Guinean president said
The government of Guinea is preparing to drop bribery claims against Israeli businessman Beny Steinmetz and allow his mining company BSG Resources Ltd. to restart its operations in the country, a person close to Guinean President Alpha Condé told Calcalist on condition of anonymity.
For daily updates, subscribe to our newsletter by clicking here .
The West African country initiated settlement negotiations with BSGR to meet the requirements of a pending $20-billion loan offered by the Chinese government in return for aluminum concessions, the person said. Guinea announced the Chinese offer in September and said it would use the loan money to build up the country's infrastructure.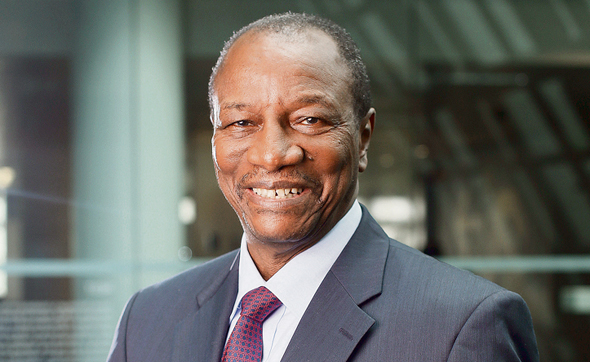 Guinean President Alpha Condé. Photo: Bloomberg

Lawyers representing Mr. Steinmetz, and the Guinean Embassy in France, responsible for the country's relations with Israel, did not respond to a request for comment,

Mr. Steinmetz and some of his associates have been under investigation in Israel, the U.S., and Switzerland in connection with a corruption scandal that has been gripping Guinea for the better part of the past decade.

BSGR was granted rights to mine the Simandou iron ore deposit in the country's remote eastern province in late 2009, shortly before the death of president Lansana Conté, an authoritarian figure who ruled the country for 24 years. Guinea then transitioned to democratic rule and elected Alpha Condé as president. In 2011, the new government reviewed how its natural resources had been parcelled to foreign companies and accused BSGR of corruption.Then, in 2014, Guinea revoked the company's mining rights. BSGR responded by taking the dispute to arbitration, whose proceedings are still ongoing.

The Israeli police's anti-corruption unit the case suspects Mr. Steinmetz paid $30 million in bribes to the late Guinean president and his wife over the years 2008-2012, in an attempt to secure BSGR's rights to the Simandou mine, one of the world's richest sources of iron ore. Mr. Steinmetz, who is also suspected of money laundering, was detained and questioned last December and then again in August.