Bitcoin ATM in Israel Shuts Down Due to Demand Overload
The bitcoin fever has hit Israel, but the global demand is crashing the infrastructure
Bitcoin has just arrived on the stock markets, and its popularity is higher than ever. It's so in demand, in fact, that bitcoin trading websites such as the Chicago Board Options Exchange crashed within minutes of launching, unable to handle the traffic. In Israel, local enthusiasts looking to get into the bitcoin craze are also having trouble. There are currently two bitcoin ATMs, but only one of them is still operating; the other was shut down a week ago due to the extraordinarily long processing times.

For daily updates, subscribe to our newsletter by clicking here.

A bitcoin ATM lets customers buy bitcoin and other kinds of cryptocurrency (like Etherium) in a quick and uncomplicated manner. All one has to do is download a digital wallet and open an account in a few short steps. When cash is then inserted into the machine, the amount should immediately appear in the wallet. The two bitcoin ATMs operating in Israel charge 4-5% commission for each transaction, a slightly higher commission than for other methods of purchasing cryptocurrency. They are popular with first-time customers because the local shops assist in the process.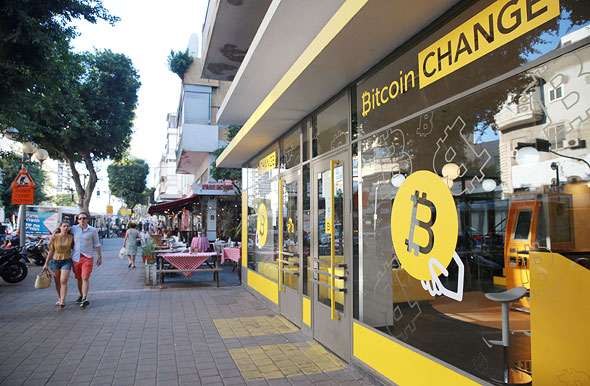 Bitcoin Change in Dizengoff Street. Photo: Orel Cohen

Israel's first bitcoin ATM is located inside the Israeli Bitcoin Embassy, a Tel Aviv community center for the local bitcoin scene. The Embassy's ATM is operated by currency exchange service Bits of Gold Ltd., which leases space in the same building. Less reliant on the cryptocurrency marketplace infrastructure, the service is still operating, though it has been shutting down periodically to process pending purchases due to high demand. Operating hours were also cut back, and the ATM now closes at 6 p.m. every day, though the center remains open to visitors.

The second ATM, opened in October and located in Dizengoff Street, has been closed for the past week due to the pressure on the global cryptocurrency infrastructure. The machine's operator told Calcalist he hopes it will return to regular activity later today, or tomorrow at the latest.

Global interest has caused major delays in most of the main cryptocurrency stock exchanges, such as Kraken or Coinbase, and in some cases, transactions are taking over 48 hours to process.