Employees Protest Outside Teva's Israeli Facilities
The demonstrations outside the company's facilities held Thursday foreshadow a full-out strike planned by the company's employees for Sunday
Earlier today several of Teva's board members were seen leaving the company's headquarters in the Tel Aviv suburb in taxis ferrying them past the few employees protesting outside the complex. The muffled demonstration foreshadows a full-out strike planned by the company's employees for Sunday. "Teva isn't Israel anymore," one of the protesters outside the complex said.
Around 1,500 people are currently employed at the complex. Management is planning to let go around 650 people and close entire units, according to a document reviewed by Calcalist.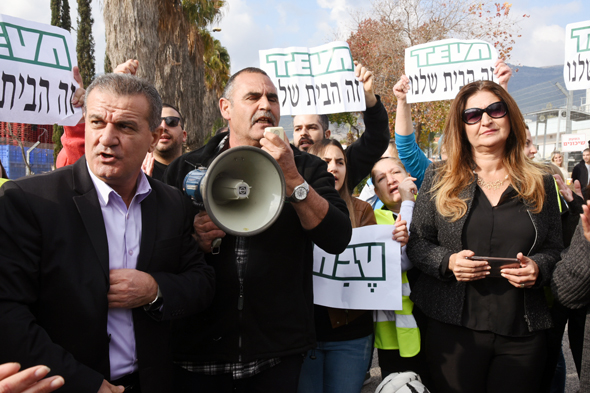 Teva employees demonstrating outside a company facility in Kiryat Shmona, Israel. Photo: Avihu Shapira

At a Teva facility in the south of Israel, employees doubted whether the country's biggest labor union would be able to stay management's hand before the trigger is pulled. After a few minutes of demonstrating, they returned to the plant.

At the company's research and development center in the Israeli coastal city of Netanya, employees expressed their worries concerning their uncertain future. The center employs 350 people, some of which were personally involved in the development of Teva's $40 billion multiple sclerosis drug Copaxone. According to the document reviewed by Calcalist, Teva intends to shut down all pre-clinical trials at the facility, hinting at future layoffs.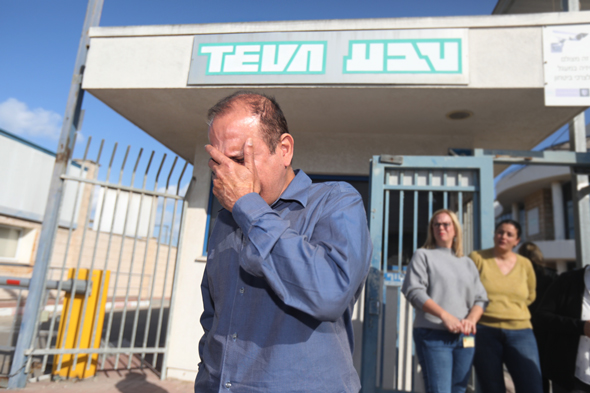 Teva employees outside the company's facility in Netanya, Israel. Photo: Nimrod Glickman

Manuel Raymond, a senior researcher that was involved in the development of the company's blockbuster drug, started working at the company in 1978. "I'm 64 years old. will I receive a termination letter, instead of a lifetime achievement award?" he said in an interview with Calcalist Thursday. "They should at least make sure I get proper compensation and take care of the younger employees," he said.

Haim Belinson, a project manager at the facility, returned to Israel after six and a half years in the U.S. A position at Teva, he said, was one of the factors that convinced him to return to the country, leaving behind lucrative job offers. Mr. Belinson wanted to join a company "that can change the shape of today's medicine," he said. Teva, he believed, was the right option for him.