Teva to Let Go 14,000 Employees Over the Next Two Years
The company released a statement detailing its reconstruction plan Thursday. CEO Kåre Schultz elaborated on the plan during a call with investors
Teva Pharmaceutical Industries Ltd. will lay off 14,000 employees in the next two years as it pivots back to focus on generics and closes or sells off many of its assets, the company announced in a Tel Aviv Stock Exchange filing Thursday. The planned layoffs do not include any potential future asset divestments, the company said. The announcement sent Teva's stock up by as much as 19.6% on Nasdaq pre-trading.

For daily updates, subscribe to our newsletter by clicking here.

More than half of the layoffs will occur by the end of 2018, and most of the affected employees will be notified within the next 90 days. All business units and regions will be affected. The company is expecting to pay severance costs and other restructuring charges of at least $700 million.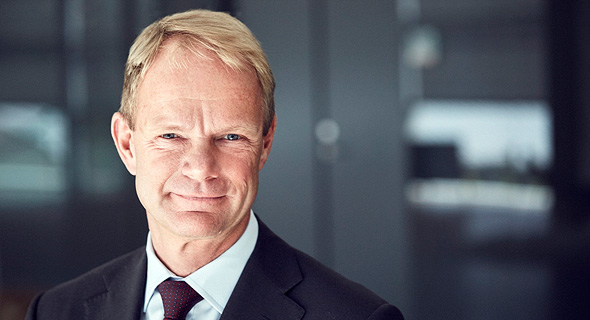 Teva CEO Kåre Schultz . Photo: PR

Teva's official announcement comes after nearly a month of layoff rumors and growing uneasiness among the company's employees. Last month, CEO Kåre Schultz outlined the company's reorganization plan for the first time, revealing that cutbacks, downsizing and a preference for market-dominating generics over brand-name research will be Teva's strategy for stabilizing its cash flow and financial outlook. On Wednesday, Calcalist reported that Teva intends to fire around half of its employees in Israel and close or sell most of its manufacturing operations in the country.

Teva's financial troubles, which have seen the company's market capitalization drop from around $70 billion in July 2015 to less than $16 billion on Thursday, are in large part the result of the $40.5 billion acquisition of Allergan's generic business Actavis in 2016. Teva took out extensive loans to finance the deal, but retailer consolidation and increasing regulatory pressure in the generic drug market decreased the company's revenues. Further pressure came with the expiration of Teva's patents for its $40 billion drug Copaxone, which saw general rivals launch in the U.S. and Europe this October.

The man behind the Actavis mishap, former CEO Erez Vigodman, stepped down in February after pressure from the board of directors. In July, Teva was set to appoint to its top post Pascal Soriot, the CEO of Anglo-Swedish pharmaceutical company AstraZeneca. Teva's planned hiring was leaked and AstraZeneca managed to retain Mr. Soriot by offering a more attractive compensation package. Under Mr. Soriot, Teva would have moved away from the focus on generics, toward developing innovative drugs, said Teva activist investor Benny Landa.

In September, Teva announced the appointment of Denmark-born Schultz, at the time the CEO of Copenhagen-based pharmaceutical company H. Lundbeck A/S. Brought to Lundbeck in 2015 to turn the struggling company around, Mr. Schultz fired 17% of the company's employees only three months after taking the job, earning the nickname "Hard Core" in Danish media reports. Mr. Schultz stepped in as Teva's CEO on November 1 after relocating to Israel.

"Today we are launching a comprehensive restructuring plan, crucial to restoring our financial security and stabilizing our business," Mr. Schultz said in a statement Thursday. "Teva will optimize its cost base while ensuring that we protect our revenues and preserve our core capabilities in generics and in select specialty assets, in order to secure long-term growth."

According to the plan, Teva's total cost base will be reduced by $3 billion by the end of 2019. More than half of the reduction is expected to be achieved by the end of 2018. In addition to the restructuring plan, Teva announced it will not pay annual bonuses for 2017 and immediately suspend dividends on ordinary shares and ADSs, while dividends on mandatory convertible preferred shares will be evaluated on a quarterly basis per current practice.

The plan is intended to make sure Teva meets all of its financial commitments, Mr. Schultz said. Teva plans to close or sell a significant number of manufacturing plants and research and development facilities in the U.S., Europe, Israel and in growth markets. In a call with investors, Mr. Schultz said that Teva currently has around 80 manufacturing sites as a result of its extensive mergers and acquisitions, and that the plan is to close a "significant double digit number" over the next two years.

The company has already sold its women's health and oncology businesses under interim CEO Yitzhak Peterburg, though last month Bloomberg reported that Mr. Schultz rescinded its plans to sell its oncology division after failing to attract offers at the $1 billion asking price. In the filing, Teva said it will continue to review the potential for additional divestment of non-core assets. In the investor call, Mr. Schultz said that going forward, Teva is going to focus mainly on its respiratory and oncology assets, and on more complex generics that can provide a higher return due to lesser competition from other manufacturers.

He also elaborated on Teva's November announcement, which said that its specialty and generic businesses will be consolidated under one management, in three regional divisions instead of five. The regional research groups for specialty and generics will not be mixed, he said, but more practical operations like clinical trials "will have synergy."

The upcoming layoffs have sparked strident protest in Israel from employees, politicians and the country's labour organizations. While small-scale demonstrations took place outside Teva's various facilities today, larger demonstrations have been scheduled for Sunday, which is a regular workday in Israel, when all of Teva's employees in Israel will go on a one-day strike.