Israel to Build Coworking Hubs to Foster Entrepreneurship
The project, spearheaded by the Ministry for the Development of the Negev and Galilee, is designed to draw startups and entrepreneurs to the periphery and bolster the local economy
The Israeli Ministry for the Development of the Negev and Galilee is investing $25.5 million (NIS 90 million) in the establishment of 45 coworking spaces in Israel's peripheral regions, a spokesperson for the ministry told Calcalist. The ministry said they expect all 45 tech hubs to be operational by the third quarter of 2018.
For daily updates, subscribe to our newsletter by clicking here .
According to the ministry, the purpose of the plan is to draw startups and entrepreneurs to areas that offer fewer work opportunities in Israel's lucrative tech sector. Most of Israel's tech and economy hubs are currently located at Israel's center.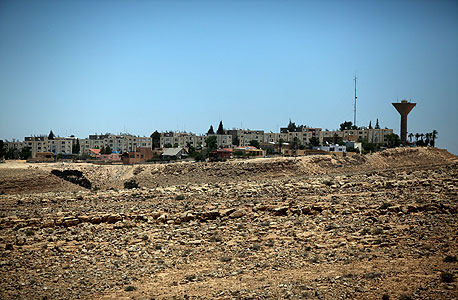 The Negev region. Photo: Amit Sha'al

A report published in October by Jerusalem-based think tank the Taub Institute for Social Policy Studies showed an unusually wide economic gap between Israel's technology sector and other industries. Traditionally, the success of Israel-based technology companies has failed to trickle down to other local industries and to Israel's periphery.

As part of the government's plan, 45 local municipalities in Israel's periphery, including 16 in the Galilee region and 10 in the southern Negev desert, would receive government funding and assistance in establishing and managing the coworking hubs. In turn, the hubs will offer below average rental fees and education programs.

Israel's Kibbutzim, the formerly socialist rural communes, are also looking at coworking spaces as a means to infuse the local economy with fresh tech talent and entrepreneurial spirit. Earlier this month, Calcalist reported that Israel's kibbutzim are looking to transform over 200 deserted or underutilized buildings, including mess halls, chicken coops and communal nurseries, into tech hubs and startup accelerators.

The kibbutzim project is headed by the Kibbutz Industry Association (KIA). According to the organization's plan, kibbutzim located near the Sea of Galilee will host startups developing water and agricultural technologies. In Israel's south, near the Jordanian border, the available real estate would be used to host startups focusing on solar energy technologies.

The Kibbutz Industry Association told Calcalist they believe coworking spaces could support the local industry by creating increased demand for related services such as catering, cleaning, and security. The association estimates that by 2020, dozens of hubs will already be in operation.