Once Israel's Beating Socialist Heart, Kibbutz Mess Halls Are Turned into Startup Hubs
In search for additional revenue streams and innovation, Israel's kibbutzim hope to transform over 200 buildings into coworking spaces
Less than a mile off the Gaza border, the mess hall at Kibbutz Nir Am is being renovated. Once the beating heart of the commune's socialist lifestyle, the hall is being retrofitted with offices framed in black metal, with a shared kitchen, and a pool table. Nine pre-vetted startups are already waiting to move in. Seven more kibbutzim intend to follow in Nir Am's foosteps.

For daily updates, subscribe to our newsletter by clicking here .

Over the last three decades, Israel's rural communes have gone through rapid privatization. In almost all cases, old staples such as mess halls and communal nurseries have gone obsolete. Before their fall from grace, the halls stood at the center of most cultural and social activities at the small communes. Some are still hailed as the finest exemplars of young Israel's modernist architecture.

Now ambitious kibbutzim, currently dependent on agriculture and industry for income, are taking a cue from companies like WeWork, transforming deserted real estate into coworking spaces primed for tech companies.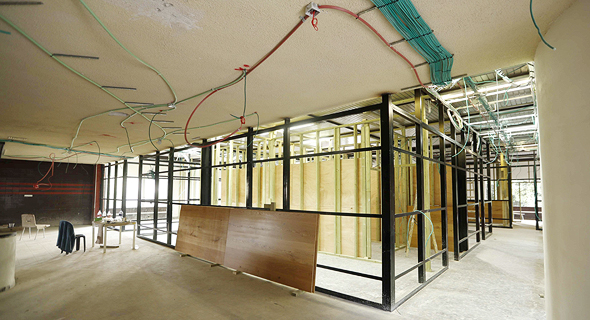 Nir Am's mess hall, now being transformed into a startup hub. Photo: Gadi Kabalo

In fact, WeWork's own co-founder Adam Neumann has spent a few of his transformative years in Nir Am. In several interviews, Mr. Neumann related to these years as an inspiration for WeWork, now the world's biggest co-working company with 155 locations and over 130 thousand residents. After a $4.4 billion investment from Softbank announced in August the company is now valued at $20 billion. Offices with black metal frames are part of the company's hallmark design.

In addition to coworking spaces, WeWork also operates shared living spaces under the brand WeLive. In a 2016 report by Forbes, Mr. Neuman is cited as alluding to the company's offering as a Capitalist kibbutz.

The cost of the renovations at Nir Am's old mess hall stand at $340 thousand. Startups moving in will pay around $280 per seat, after a free use period of four months.

In an interview with Calcalist, Nir Am veteran Yehoshua Grossman (93) said the local mess hall used to be the commune's living and breathing center.

"Every meal, every event, every holiday—we were all there. For us, it wasn't just a place where we ate; it was the heart of the kibbutz. The biggest decisions we had to make were debated and decided there," Mr. Grossman said.

The transformation of kibbutz mess halls is part of a new project spearheaded by the Kibbutz Industry Association (KIA), with the intention of making over dozens of kibbutzim.

According to the association's estimations, there are over 200 abandoned or under-utilized structures in kibbutzim across Israel that could be turned into tech hubs and startup accelerators. According to the organization's plan, kibbutzim located near the Sea of Galilee would host startups developing water and agricultural technologies. In Israel's south near the Jordanian border the available real estate would be used to host startups developing solar energy technologies.

A target for some of the most elaborate Hamas attack plans, Nir Am will host defense, plastics, and software startups.

"We want to use the resources all kibbutzim have—mess halls, chicken coops, cowsheds, and deserted factories," said Ofir Libstein, KIA CEO.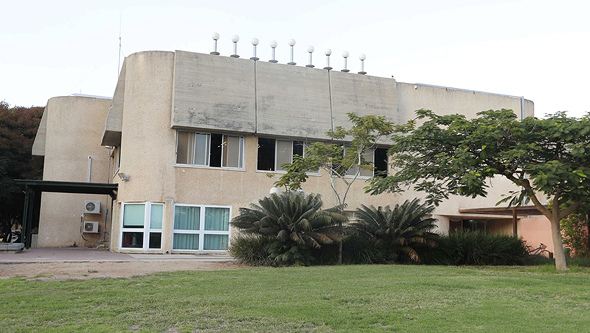 Nir Am's mess hall. Photo: Gadi Kabalo

Beyond revenues generated from desk rentals, coworking spaces could support the local industry by increasing demand for related services such as catering, cleaning, and security. Mr. Libstein hopes the startups and entrepreneurs would collaborate with the many industrial companies established in kibbutzim.

The companies waiting to move in into Nir Am's renovated mess hall will take part in a startup acceleration program established by KIA, appropriately called Ha'Mashtela, Hebrew for a plant nursery. As part of the program, the young startups will get funding from close-by kibbutzim in return for equity.

In adherence to the historic communal spirit of the host, the startups will also be required to pool together some of their equity in a new cooperative.

"This way they'll be able to benefit from cooperation and reduce individual risk," said Rafi Nevo, the program's CEO in an interview with Calcalist.

By 2020, Mr. Libstein estimates dozens of hubs such as the one currently being built in Nir Am will already be in operation. Distance from Tel Aviv, Israel's commercial and cultural capital, is a problem, but Mr. Libstein believes government subsidies and tax benefits extended to businesses operating at the country's periphery make up for it.

Mr. Grossman, who used to work at Nir Am's cutlery factory, is now a widower. A son and two daughters have left the community. "It is not our kibbutz anymore. Nothing can remain forever as it was," he said.