Conference Draws Global Social Tech Leaders to Israel
Israeli innovation is attracting investors interested in a double bottom line: profit and positive social impact
Israel can become a world leader in the growing field of social tech, said British venture capitalist Ronald Cohen at the Scaling Social-Tech conference, which took place in Tel Aviv last month and was also sponsored by the Swiss Embassy in Israel.

For daily updates, subscribe to our newsletter by clicking here .

TechForGood, an Israel-based startup accelerator founded in 2013, put on the conference to highlight how Israel is attracting the attention of the world's impact investment community, which is based on the idea that companies can prioritize socially conscious goals and still be profitable.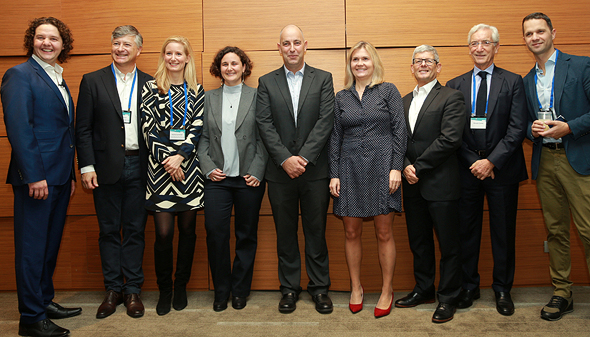 Some of the speakers of Tel Aviv's Scaling Social-Tech Conference. Photo: Orel Cohen

"We were brought up with the Jewish concept of tikkun olam, that you have a duty to improve the world," Mr. Cohen said in his keynote address. "And that's why the Startup Nation will also become the Impact Nation."

In 1972, Mr. Cohen co-founded Apax Partners Worldwide LLP, now one of the world's largest private equity firms. He later co-founded Bridges Fund Management Ltd., which specializes in the field of impact investing. Today, he heads the Global Steering Group on Impact Investing, an initiative that grew out of the G8.

"We're now beginning to realize that capital flows in the system cannot just be dictated by risk and return," Mr. Cohen said. "We have to worry about the negative consequences that we achieve through our decision making, and we have to worry about making positive improvements in people's lives."

It's not only entrepreneurs and investors that are driving the trend. Consumers also want to support socially conscious brands, said Jon Duschinsky, a public speaker and entrepreneur who is known for kindling the Ice Bucket Challenge, which has raised $100 million for ALS research.

"You need to give people something to belong to, to share and be excited about," Mr. Duschinsky said.

TechForGood's co-founder Omri Boral left a job at the Israeli Finance Ministry in order to found the accelerator, with the objective of getting more people involved in social tech.

"A meaningful and profitable career that promotes social values should not be a privilege for those who retire or are born into a very wealthy family," Ms. Boral said. "It is possible today to lead businesses that create a positive impact in the core of activity without compromising on high financial profitability."

Nir Shimony, who co-founded TechForGood with Ms. Boral, explained the three criteria they use to define social tech.

"The first thing is intentionality to do good," Mr. Shimony said. "This is embedded into the DNA of the startup, it becomes part of the startup's decision-making process." Second, social tech is "innovative technology, which disrupts and changes industries." And, lastly, he looks for "startups that tackle the world's biggest problems and are answering large markets, which ensures high returns for investors as well."

Demand for impact investment opportunities comes, for example, from wealthy families in Europe, said Andreas Ernst, head of impact investing for Anthos Asset Management B.V., a 200 million euro family fund founded three years ago.

"They are most interested in understanding what that investment will do on the impact side. It is not only the financial returns they are interested in," he said.

In 2015, the United Nations declared 17 Sustainable Development Goals for the world that target issues like education, poverty, environmental protection and gender inequality. Katherine Brown, head of sustainable and impact investing at the World Economic Forum, said that these goals are important guidelines for companies interested in social tech.

"It is said that social-tech is an ideal tool for achieving the SDG's, but I think it is the other way around and that these goals have driven the creation of the industry," said Ms. Brown. "The private sector can fill the huge gap of finance that is needed in investments."

The conference drew speakers from global industrial companies like Virginie Helias, the vice president of sustainability at Procter & Gamble, who are looking for social tech ideas in Israel.

"P&G is looking in Israel for solutions for water reuse and sustainability, " Ms. Helias said. "We need the entrepreneurial brains because Israel is a very important innovation hub for the company."

"We have a real interest to do more with Israel and connect the two countries," Mr. Ruch said. "You come up with the ideas, we will manufacture and market them."