SEC Says Mobileye Founders' Insider Trading Testimony Not Credible
Recently questioned by the U.S. Securities and Exchange Commission, co-founders Amnon Shashua and Ziv Aviram denied passing any inside information to defendant James Shaoul
The U.S. Securities and Exchange Commission (SEC) says the version presented by Mobileye's founders Amnon Shashua and Ziv Aviram regarding suspicions for insider trading in the Intel-Mobileye acquisition deal is "not credible," according to documents reviewed by Calcalist.

For daily updates, subscribe to our newsletter by clicking here.

In March, Intel announced its $15.3 billion acquisition of Jerusalem-headquartered Mobileye, sending the automotive chipmaker's stock up 28% by that day's market close. Shortly after, the SEC opened two separate cases, one against two Israeli residents and one against two U.S. residents, claiming that the four made suspicious and unusually profitable trading in Mobileye securities prior to the announcement.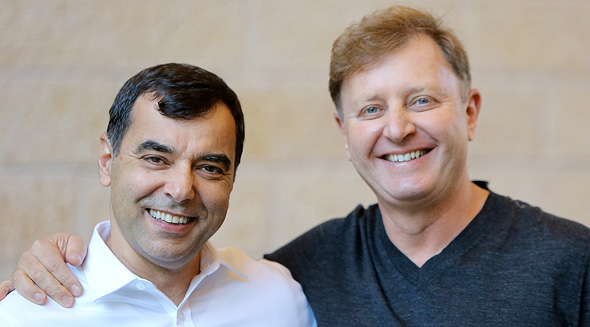 Mobileye's founders Amnon Shashua and Ziv Aviram. Photo: PR

In September the SEC added Jerusalem resident James Shaoul as a defendant in the second case, alleging that he was the person who passed the information about the upcoming deal to the traders. According to the SEC, Mr. Shaoul, a plastic surgeon, is a personal friend and business associate of Mr. Shashua, and has previously been in contact with Mr. Aviram regarding Mobileye's business.

The documents show that the SEC recently questioned Messrs. Shashua and Aviram, who both denied having passed on any information about the deal to Mr. Shaoul prior to the public announcement. The two signed a non-disclosure agreement on February first. However, due to the suspicious timing, scope and characteristics of the trading exhibited by the friends and family of Mr. Shaoul, the SEC said their version is "not credible." The SEC considers the tip off "a violation of duties to Mobileye."

The first case named Ariel Darvasi, Vice Dean of the Faculty of Science at the Hebrew University of Jerusalem, who settled with the SEC in July, and Amir Waldman, former vice president of Israel-based medical device company Syneron Medical Ltd., against whom the case is still ongoing. Mr. Waldman allegedly made $4.3 million from his trading after having been tipped off by Mr. Shaoul, a long time personal friend.

According to the documents, the SEC claims that Mr. Shaoul passed the information to Mr. Waldman out of self-serving interest. In his testimony Mr. Waldman said he gave Mr. Shaoul gifts and loaned him money under preferential conditions, which the SEC is considering as material gain in exchange for the tip off. In a court filing, Mr. Waldman denied the insider trading allegations.

Mr. Shaoul is also accused of passing on the information, as well as specific trading advice, to his brother, Richmond, Virginia resident Roger E. Shaoul, who then shared the information with his friend and business partner Lawrence F. Cluff, Jr. The two allegedly made around $925,000 from their trading, based on the instructions passed on by James Shaoul.

Mobileye and Messrs. Shashua and Aviram declined to comment. Messrs. Shaoul and Waldman have yet to reply to a request for comment.