Blockchain Loses Magic Hold on Tel Aviv Investors
After two weeks filled with stock rallies related to companies announcing new crypto-currency and Blockchain businesses, excitement seems to be wearing off
After two weeks of bitcoin-related hype on the Tel Aviv Stock exchange, investors' excitement seems to be wearing off.

For daily updates, subscribe to our newsletter by clicking here.

On Wednesday, Tel Aviv-listed media company Algomaizer Ltd. announced it is looking to enter the blockchain and cryptocurrency industry in a stock exchange filing. The company said it is currently in talks with advisors and companies working in the domain in both the U.S. and Israel, with interest in both product development and crypto-mining agreements. Algomaizer also announced that it is developing a browser add-on for digital coin trading.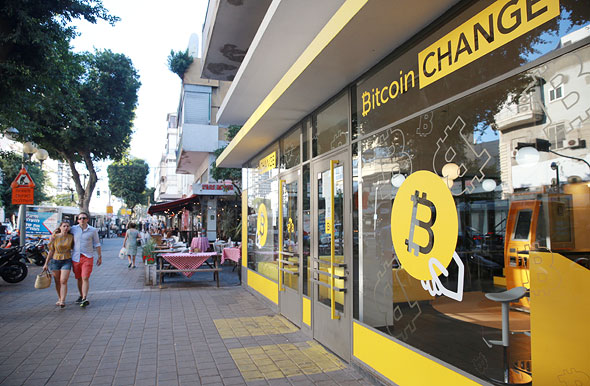 Bitcoin Change in Dizengoff Street. Photo: Orel Cohen

Investors responded by sending Algomaizer's stock down by 2.85% by Wednesday's market close, a marked change compared to the recent behavior exhibited by investors following recent blockchain-related announcements made by Tel Aviv-listed companies.

At the beginning of the month, an Israel-based shelf company called Natural Resource Holdings Ltd. announced an intended merger with a Quebec-based cryptocurrency mining company called Backbone Hosting Solutions Ltd. In response, investors sent the company's stock 159% up the next day. Since October, when the company announced it is exploring opportunities to enter the cryptocurrency market, the company's stock shot up by around 3500%.

A few days later, Tel Aviv-based Fantasy Network Ltd. announced it had hired a blockchain advisor, sending its stock up 44% by that day's market close. A day later, its stock was up an additional 80%.

This unusual activity prompted Shmuel Hauser, the chairman of Israel's Securities Authority, to announce the authority will not allow companies whose value is dependent on the bitcoin to be included in the indices of the Tel Aviv Stock exchange on December 12. Mr. Hauser also said the authority might block such companies from listing on the exchange until a suitable regulatory framework is put in place.

His warning sent Natural Resource and Fantasy down by 54% and 28% that same day. While both companies still have a higher market capitalization than they did before their respective announcements, neither have regained their peak value.

On Sunday, digital marketing company Apply Advanced Mobile Technologies Ltd. announced it intends to establish a marketing venture for blockchain and cryptocurrency in addition to its regular operations. While the announcement sent Apply's stock up 252% by Sunday's market close, the company's stock lost 75% of its value by Wednesday's market close. As a result, the stock gained only 12% since Sunday's announcement. The company's stock is trending downward on Thursday trading.

On Monday, solar energy company Apollo Power Ltd. said it completed a successful experiment to harness solar power for crypto-mining. Its stock was up 38% by Monday's morning close. Since then the company has been trending downwards, and at Wednesday's market close its value was 18% less than it was on Sunday market close.