Israeli Regulator Will Move to Bar Cryptocurrency-focused Companies from Stock Market
Securities regulator warns that bitcoin is a "bubble," saying that existing regulations fail to protect investors
The Israel Securities Authority will move to bar companies whose market value is primarily based on a virtual currency from being trading on the Tel Aviv Stock Exchange, said Shmuel Hauser, the authority's chairman, at a conference hosted by Calcalist on Monday.

For daily updates, subscribe to our newsletter by clicking here.

An economist by training, Mr. Hauser said that existing regulations had left the investing public "unprotected" from the risk inherent in bitcoin and other virtual currencies.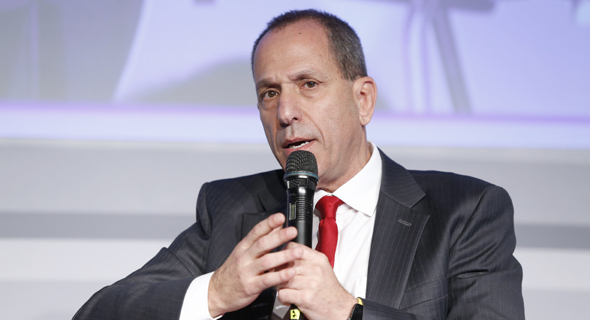 Israel Securities Authority Shmuel Hauser. Photo: Amit. Sha'al

"I think the price of bitcoin is a bubble," he said. "No one knows what's behind it."

On Friday, the price of bitcoin had dropped 30% over from its height of almost $19,000 earlier in the week.

Mr. Hauser said he would initiate a rulemaking process next week that would remove cryptocurrency-focused companies from the stock market and ban new ones from listing until the authority finds "a proper regulatory framework."

A committee appointed by Mr. Hauser is in the process of drafting recommendations on how to regulate securities that are tied to cryptocurrencies.

Earlier this month, several Tel Aviv-listed companies saw their stock price skyrocket after announcing plans to enter the cryptocurrency industry. Shelf company Natural Resources Holding Ltd. said it would enter the bitcoin mining business and its market value increased by as much as 4,000% in a matter of weeks. The Tel Aviv-based Fantasy Network Ltd. followed suit, announcing it had hired a blockchain advisor. The company's stock price doubled by market close the next day.

In the face of mounting hype, the Israeli securities authority under Mr. Hauser has increasingly moved to insulate investors from cryptocurrency speculation.

Two weeks ago, the authority decided that stocks linked to cryptocurrencies would not be included in Tel Aviv Stock Exchange indices. Natural Resource Holdings, which later changed its name to Blockchain Holdings Ltd. saw its stock price sharply drop.

By last week, the hype around bitcoin-related stocks seemed to have subsided and investors sent related stocks on the Tel Aviv exchange down.