LG Partners With Israeli Company eyeSight to Provide Gesture Control for In-Car Entertainment Systems
EyeSight, a developer of computer vision and gesture recognition technologies, will provide LG with control systems for vehicle entertainment and information systems
South Korean electronics conglomerate LG Electronics Inc. has selected gesture recognition company eyeSight Mobile Technologies Ltd. as a supplier for its car information and entertainment systems, eyeSight announced Monday.

For daily updates, subscribe to our newsletter by clicking here.

As part of the deal, LG will use eyeSight's computer vision software together with its own automotive sensor, to enable interaction with its vehicle information and entertainment systems based on the detection of natural hand gestures. eyeSight's sensor detects movement in real-time and translates it into actions; for example, raising one or two fingers to switch between the navigation and media screens.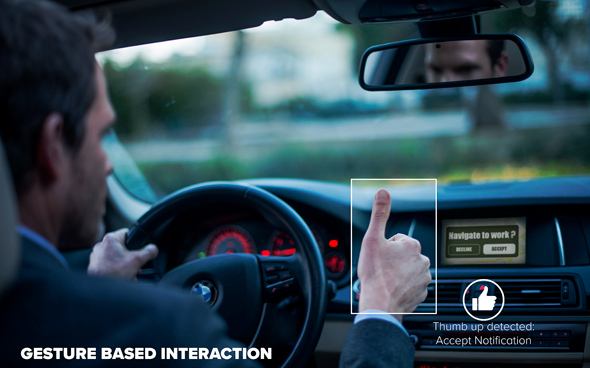 eyeSight. Photo: PR

The co-developed product will be designed to decrease distracted driving and improve user experience in the car, eyeSight said in a statement.

The deal does not include a direct form of payment, Iain Levy, eyeSight's vice president of automotive solutions, told Calcalist in an interview Monday. However, he added, it could potentially generate millions of dollars in revenues.

Mr. Levy said that LG has already signed a contract with a large automaker to supply the system that will include eyeSight's gesture detection technology, and is in the process of finalizing additional deals featuring it.

"We have been involved with machine vision for a few years now, but are still relatively new in the automotive market. Getting the acknowledgment and partnership of a company like LG is a great push for us," Mr. Levy said. "This is the beginning of a very extensive collaboration with LG, not just in the field of gesture control but in everything that has to do with in-car machine vision technology," Mr. Levy added.

"Our experience in the Computer Vision field and our tailored solutions for the in-car environment positions us as the leader in enhancing the driver experience and helping to prevent distracted driving," Gideon Shmuel, CEO of eyeSight, said in a statement. "With the market transition to semi-autonomous cars, it's vital that automotive solutions include tangible benefits to the users like personalization and comfort."

Founded in 2005 and based in the coastal city Herzliya, eyeSight's systems utilize deep learning and computer vision to provide hands-free interaction with smart homes and internet of things (IoT) devices, automotive systems, and other consumer electronics. The company has raised more than $26 million in total equity funding, according to data from online database Start-Up Nation Central.

South Korean multinational conglomerate LG manufactures and markets consumer electronics, mobile communications, and home appliances. The company employs 75,000 people in 118 locations worldwide.