Daimler's Tel Aviv Research Chief Weighs In on the Future of Cars
The journey towards a fully autonomous car is still far from over, says Adi Ofek, head of the automaker's Tel Aviv research and development center
The vision of a fully autonomous, fully electric car, will not be realized anytime soon, according to Adi Ofek, the new chief of Daimler AG's recently inaugurated Tel Aviv research and development center.

For daily updates, subscribe to our newsletter by clicking here.

Ms. Ofek, 46, joined the management team at Daimler, Mercedes-Benz' parent company, nine years ago. She has since worked at top positions at the company's Far East branches, before returning to Israel to head the new operation.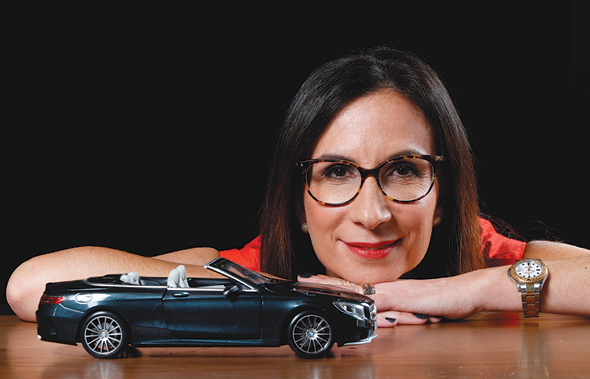 Daimler's Tel Aviv Research Chief, Adi Ofek. Photo: Amit Sha'al

"There are a million unresolved issues on the way to full implementation, both in electric and autonomous cars, like how to integrate them with regular cars on the road, and other questions relating to regulations and infrastructure and more," said Ms. Ofek in an interview in her office at the new Mercedes-Benz center in Tel Aviv. This is what we are currently working on", she added.

"In the future, the car will wrap the driver up in an ecosystem," Ms. Ofek said at a Calcalist Tel Aviv conference in November. She further described how the future car will be able to greet passengers, after charging overnight and customizing the cabin to specific passengers according to their preferences and needs. "It will set the temperature, play appropriate music and drive itself to the office while the user goes about their business, relaxes or catches up on last-minute work," Ms. Ofek said.

The cars of the future will be electric and move in automated fleets of robo-taxis, said Dieter Zetsche, chairman of Daimler, at a ribbon-cutting ceremony for the center in Tel Aviv, last month. "Cars will basically become members of the Internet of Things and algorithms, predictive analysis and artificial intelligence, will ensure that our cars will move, for instance, like swarms," Mr. Zetsche added.