As U.S. Domestic Issuer, Teva Reveals Top Stock Owners
Kåre Schultz, the newly-appointed CEO of generic drugmaker Teva Pharmaceutical Industries Ltd., is one of Teva's largest shareholders, a Wednesday filing to the U.S. Securities and Exchange Commission revealed
Kåre Schultz, the newly-appointed CEO of generic drugmaker Teva Pharmaceutical Industries Ltd., is one of Teva's largest shareholders, a Wednesday filing to the U.S. Securities and Exchange Commission revealed.

For daily updates, subscribe to our newsletter by clicking here.

In June 2017, Teva submitted its annual consolidated financial statements for the year ended December 31, 2016, to the SEC. As a foreign private issuer with less than 50% of its assets held in the states, the company was required to do so on the last business day of the year's second fiscal quarter.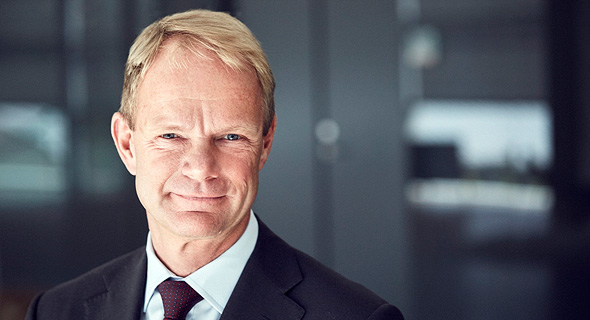 Kåre Schultz. Photo: PR

The SEC determined that due to Teva's acquisition of Allergan's generic business Actavis, closed August 2016, over 50% of its assets were now in the U.S. The SEC therefore changed the company's status to a U.S. domestic issuer effective January 1, 2018, meaning the company must now file periodic statements with the commission.

Wednesday, all company directors and shareholders holding a 10% or more stake in the company filed their reports, shedding light on stocks owned by some of the company's top executives.

Mr. Schultz owns Teva stock currently worth around $38 million, but his 2 million shares are restricted until November 2022. He also has the option of buying 590,000 shares—which would be worth around $11 million at today's share value—at $11.4 per share, until 2027.

After losing around 70% of their value over the past two years due to Teva's financial troubles and the multi-billion debt the company accrued due to the Actavis deal, Teva's stock price stood at $19.11 at market close Tuesday.

Among Teva directors, the biggest stakeholder is Amir Elstein, the company's executive vice president of global pharmaceutical resources between 2004 and 2008. Coming from the founding family of Assia, one of the Israeli companies that merged to form Teva in 1976, Mr. Elstein owns around 2 million unrestricted Teva shares.

Roberto Mignone, appointed as an independent Teva director in July, is the founder of New York-based investment advisory firm Bridger Management LLC and a co-founder of U.S.-based hedge fund Blue Ridge Capital. Bridger owns 750,000 ordinary shares, worth around $14.25 million today. Mr. Mignone also privately owns restricted stock worth around $150,000.

Dan Suesskind, current board member and Teva's chief financial officer from 1977 to 2008, owns around 300,000 shares currently worth around $6 million.

Teva's chairman of the board Sol J. Barer owns 30,500 restricted shares worth around $580,000.