Teva CEO to Netanyahu: Layoffs will Proceed as Planned
In a statement, the company said it rejects the Israeli government's appeal to withdraw cutback plans
Update: Teva will not capitulate regarding the planned layoffs in Israel, Teva's CEO Kåre Schultz told Israeli Prime Minister Benjamin Netanyahu during their 2 p.m. meeting. As a result, any possible grants or tax exemption are off the table.
For daily updates, subscribe to our newsletter by clicking here.
"The measures included in the restructuring plan are aimed to achieve our shared aspiration to sustain Teva as a strong global company, managed out of and based in Israel," Mr. Schultz said in a press release after the meeting. "We will do this to the benefit of all our stakeholders, worldwide. As the CEO of a company largely owned by global investors, we must ensure that all decisions we make are financially and economically sound. These measures are painful, but absolutely vital. They will be carried out in all of our global operations – the U.S., Europe, growth markets, and inevitably in Israel – in a fair and respectful manner."
"Unfortunately, Teva is unable to consent to the request of the Prime Minister and Ministers and avoid the closure of the plant in Jerusalem and the company will continue in the phased closure of the plant by the end of 2019. Teva will cooperate fully with the team established by the Prime Minister in order to assist the workers who will leave the company to find alternative employment, training and support."
"In order for Teva to remain an Israeli company and continue to prosper in Israel, and to continue with our significant contribution to the Israeli economy we must first and foremost save our company. I have taken upon myself to maintain the global headquarters of Teva in Israel, including my own office. I am committed to maintaining a strong presence of R&D, as well as preserving most of our existing manufacturing in Israel in the future."
During the meeting, around 2,500 protesters gathered outside of the prime minister's offices. Mr. Netanyahu and his cabinet are currently in meetings discussing further actions.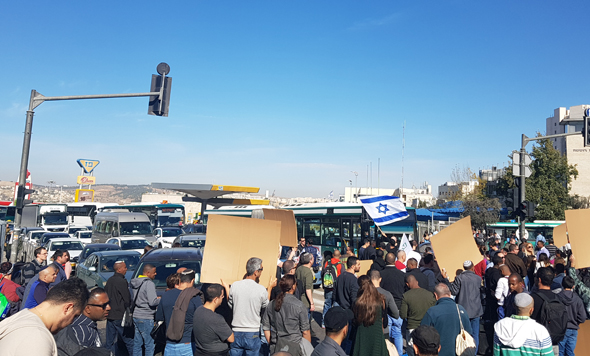 Teva employees blocking a road in Jerusalem. Photo: Omri Milman

Israeli Prime Minister Benjamin Netanyahu will meet today (Tuesday) with Teva Pharmaceutical Industries Ltd. CEO Kåre Schultz in attempt to push back against Teva's extensive layoffs plan, announced Thursday. Teva employees blocked a major road in Jerusalem during the morning rush hours in preparation for a large protest, to be held at 1 p.m. in front of Mr. Netanyahu's offices, as part of a country-wide strike in Teva's facilities.

Mr. Netanyahu is expected to put forth alternatives to the massive layoff scheme, such as the calling-off the planned outsourcing of Israeli production lines to India, favoring manufacturing operations in Jerusalem over similar facilities in Ireland, and the issuing of grants in return for preserving local over global employment. Minister of Finance Moshe Kachlon and Israel's Minister of Economy and Industry Eli Cohen will also join the meeting.

On Thursday, Teva announced it will lay off 14,000 employees over the next two years as part of a plan to trim and scale down its operations worldwide to reduce expenses and increase its cash flow and profitability. The company is currently carrying almost $35 billion in debt as a result of its $40.5 billion acquisition of Allergan's generic arm Actavis in 2016.

Continuously diminishing revenues have cast doubt on Teva's ability to meet its financial commitments, sending its stock plummeting, and prompting the "big three" American credit rating agencies to downgrade the company's rating over the past few months.

In Israel, Teva's intention to cut 1,750 employees, 500 of them in the capital city of Jerusalem, led to a countrywide strike and mounting criticism from all sides of the political spectrum. Tuesday's minister meeting with Mr. Schultz comes after a series of cabinet meetings focused on the subject, and after meetings with several of Teva's employee committees to hear their concerns and demands.

The employees' representatives claim that Teva intends to cut production in Jerusalem while maintaining an identical manufacturing plant in Ireland that is somewhat cheaper to operate. The employees assert that the annual difference of $10 million should be negated by Teva's long-standing link to Israel, and ask Mr. Netanyahu pressure Mr. Schultz into axing the Irish production instead of the Jerusalem facilities.

The representatives have also expressed worries over Teva's plans to outsource some of its manufacturing operations to India. They have asked the ministers to suggest Teva open those operations in Israel instead and reinstate some of the would-be terminated employees.

While Messrs. Netanyahu, Kachlon, and Cohen were reluctant to commit to specific suggestions before the meeting, they are expected to offer grants or collaterals in exchange for reduced layoffs. Teva was previously offered an $8.5 million (NIS 30 million) grant in return for a $43 million (NIS 150 million) investment in its Jerusalem facilities, but never requested the money. That grant may be brought up again during the meeting.

However, government estimates put the grant necessary for preserving the Jerusalem facilities at $40 million to $50 million over 3-4 years, a sum the government cannot spare or excuse to the general public.

Government officials also say that Mr. Netanyahu may suggest tax exemptions like those awarded to Teva in the past. Teva paid a tax rate of 0% for a decade, between 2004 and 2014, and is now paying an intellectual property tax rate of 6% and a tax rate of up to 16% for its factories in non-periphery areas.