After Announcing Restructuring Plan, Teva's Board of Directors Takes Paycut
In December, the generic drugmaker announced a plan to let go 14,000 employees
The board of directors of Teva Pharmaceutical Industries Ltd. has decided to cut their cash compensation in half until further notice, a company spokeswoman said in a phone call with Calcalist Thursday. Board Chairman Sol J. Barer has waived his right to cash compensation altogether, the spokeswoman added. In December, the generic drugmaker announced the company will let go 14,000 out of its 57,000 employees.

For daily updates, subscribe to our newsletter by clicking here.

In August 2016 Teva completed its $40.5 billion acquisition of Allergan's generic business Actavis, requiring Teva to take out extensive loans. Regulatory demands saw Teva sell some of Actavis' most profitable and low-competition products, reducing much of the acquired company's profitability. Consolidation of buyers and faster regulatory fast-tracking of generics in the U.S. hurt Teva's cash flow both by sending generic drug prices plummeting and by leading to the approval of generic versions for Teva's two-decade-long main money maker, its brand-name multiple sclerosis drug copaxone.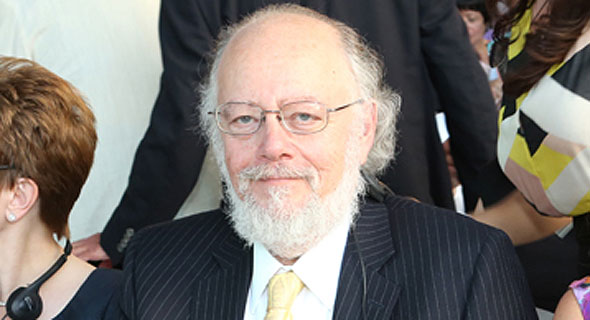 Teva Board Chairman Sol J. Barer. Photo: Piotr Flitr
Several consecutive quarters of lowered financial outlook and diminished reported and forecasted revenues cast doubts on Teva's ability to haul its debt load, leading the "big three" credit rating agencies to lower the company's credit rating and change its outlook to negative. Investors responded to the company's troubles by sending Teva's stock down to a 15 years low. The stock gained back some of its value after Kåre Schultz stepped in as CEO on November 1.
In late November, Teva unveiled an outline for the company's reorganization plan, intended to tackle Teva's plummeting revenues and make sure Teva can meet its financial commitments brought about due to the company's $32 billion debt. In December, Teva published the official, detailed plan, announcing divestment or closure of non-core assets, downsizing and consolidation of Teva's remaining operations, and the planned layoffs.
For long years the biggest Israel-based company traded on stock exchanges, Teva was formed by the merger of three Israeli companies and hails back to the earliest roots of Jewish industry in Palestine in the early 20th century. The company is headquartered in Petah Tikva, east of Tel Aviv. The intended layoffs sparked outrage in Israel, with both the public and politicians speaking against Teva's management and board, and criticizing their generous dividends. "The employees are the victims of a failed, blundering, and greedy management," Shelly Yachimovich, a member of the Israeli parliament representing the Israeli Labor Party, said following a December Calcalist report that presented the details of the plan, before the official announcement.
Teva's board currently numbers 12 people. The board made the decision before the official plan was made public in December, the spokeswoman said, but decided against publicizing the matter. The decision affects all compensation as of December 2017.
Teva's board's compensation package includes an annual cash board membership fee, committee membership fees, and annual equity‐based compensation. The chairman of the board and the chairs of the board's various committees may also receive additional annual cash payments for those capacities.
According to Teva's annual financial report for the fiscal year 2016, Teva awards its directors an annual cash payment of $160,000 as board membership fees, and $10,000-$20,000 for individual committee membership fees, depending on the committee.
Board members also receive restricted stock units with an approximate aggregate fair market value of $130,000 each year. Among the directors, the biggest stakeholder is Amir Elstein, who owns around 2 million unrestricted Teva shares, worth around $38 million at Teva's current share price. From the founding family of Assia, one of the Israeli companies that merged to form Teva in 1976, Mr. Elstein was Teva's executive vice president of global pharmaceutical resources between 2004 and 2008.
Roberto Mignone, appointed as an independent Teva director in July 2017, is second largest shareholder among the board, through his New York-based investment advisory firm Bridger Management LLC, which owns 750,000 ordinary shares worth around $14.25 million today. He also privately owns restricted stock worth around $150,000.