Renault-Nissan-Mitsubishi Establishes a $1 Billion Venture Fund
Alliance Ventures will operate out of major tech hubs around the world, including Tel Aviv
Renault-Nissan-Mitsubishi announced last week at the Consumer Electronics Show in Las Vegas that the group would spend $1 billion over the next five years on automotive acquisitions and investments. The investments will be made through a venture capital fund called Alliance Ventures, which will have offices in major tech hubs around the world, including Tel Aviv.

For daily updates, subscribe to our newsletter by clicking here.

The fund will target both startups and mature companies focused on vehicle electrification, autonomous systems, connectivity and artificial intelligence, and other "new mobility" technologies.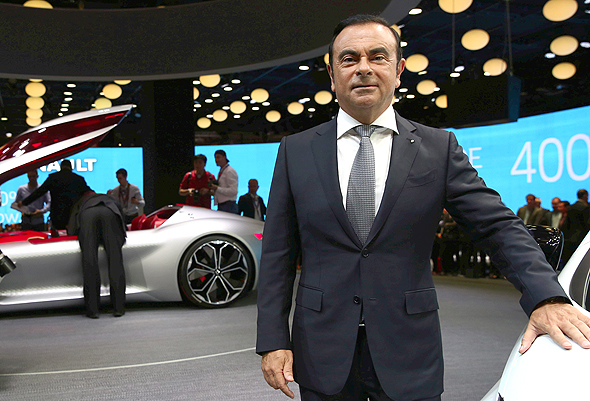 Renault-Nissan-Mitsubishi's CEO and Chairman Carlos Ghosn . Photo: Bloomberg
"Our open innovation approach will allow us to invest and collaborate with startup companies and technology entrepreneurs, who will benefit from the global scale of the Alliance," Renault-Nissan-Mitsubishi's CEO and Chairman Carlos Ghosn said in a statement. "This new fund reflects the collaborative spirit and entrepreneurial mindset at the heart of the Alliance."
The group of French and Japanese automakers plans to spend $200 million in the first year, adding that it will start with an investment in Ionic Materials, Inc., a Massachusetts, U.S.-based battery company.
Renault and Nissan will each have a 40% stake in the fund, and Mitsubishi Motors will have 20%. The new venture fund adds to the $10.4 billion the companies already spend annually on research and development, according to the announcement.
The fund will operate as an independent entity and seek out investments in the world's major tech hubs, including Silicon Valley, Paris, Tokyo, Beijing, and Tel Aviv, according to a CNBC interview with Francois Dossa, who has been tapped to lead the fund.
The three automakers sold 10 million vehicles in 2017 through 10 different brands, according to the the statement.