Starboard Attempting to Replace Mellanox's Entire Board
The activist investor dispatched a letter to Mellanox's shareholders announcing a fight to switch out all nine members of the board in order bring the company to greater profitability
New York-based Starboard Value LP is attempting to replace the entire board of the directors of Israel-based Mellanox Technologies Ltd., according to a letter Starboard sent to investors of Mellanox.

For daily updates, subscribe to our newsletter by clicking here.

The Wall Street Journal first reported the news of Starboard's plan.

The letter says Starboard intends to nominate its co-founders Jeffrey Smith and Peter Feld to Mellanox's board, as well as seven other people with experience in the chip-making industry.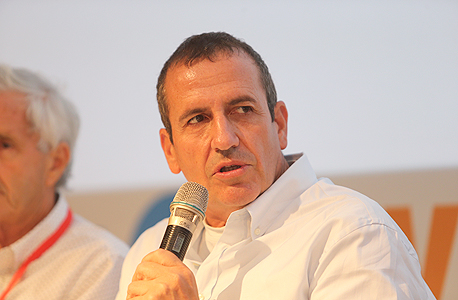 Mellanox CEO Eyal Waldman. Photo: Nimrod Glickman
Mellanox develops electronic components that facilitate the transfer of data between servers and storage devices. The company is traded at a market capitalization of $3.3 billion, up about 30% since Starboard's investment. Mellanox employs approximately 2,700 people. 2,000 of them are based in the company's research and development facilities in Israel.
In November, the activist investor acquired a 10.7% stake in Nasdaq-listed Mellanox becoming the company's largest shareholder. The company said that it would seek to make changes at Mellanox because it was underperforming compared to its competitors.
"Unfortunately, despite an extremely strong product and technology portfolio, Mellanox has been one of the worst performing semiconductor companies for an extended period of time," Starboard wrote in a letter to Mellanox CEO Eyal Waldman earlier this month.
Mellanox raised its target for margins in December but in its new letter, Starboard said the company's new commitments are not enough.
"Mellanox's targets for operating performance have been set far below acceptable expectations, and the company has not shown any ability to meet even its own underwhelming targets," Starboard said in the new letter.
In describing its plan to replace the board, Starboard said that if it manages to secure all nine seats, it would consider allowing back two members of the company's current board in the interest of "continuity."
In response to Starboard's announced plan, Mellanox released a statement on Thursday.
"The Mellanox Board takes its fiduciary duties seriously, is strongly committed to enhancing shareholder value and will continue to act in the best interests of the Company and all shareholders," the statement said. "The Mellanox Board is confident in the Company's strategy to accelerate growth, transform our business and enhance shareholder value."
Earlier this month, Mellanox discontinued a business unit, laying off 100 employees, in the company's first major step to address Starboard's concerns.
Starboard, which manages about $6 billion in assets, has garnered a reputation for making sudden and large investments in companies with underwhelming financial results and then pushing for fundamental changes.