Pushed by Activist Investor, Mellanox to Review Development Lineup
In November, Starboard Value acquired a 10.7% stake in the chip company
On Thursday, Nasdaq-listed Mellanox Technologies Ltd. published financial reports that surpassed analysts' expectations on all key metrics. "Mellanox is well positioned to begin reaping the benefits from prior investments," Mellanox CEO Eyal Waldman said in a statement, adding that Mellanox anticipates seeing an acceleration of revenue growth in 2018.
For daily updates, subscribe to our newsletter by clicking here.
Founded in 2002 and headquartered in the northern Israeli town of Yokne'am Illit, Mellanox develops electronic components that facilitate the transfer of data between servers and storage devices. Of the company's 2,900 employees, most are engaged in research and development.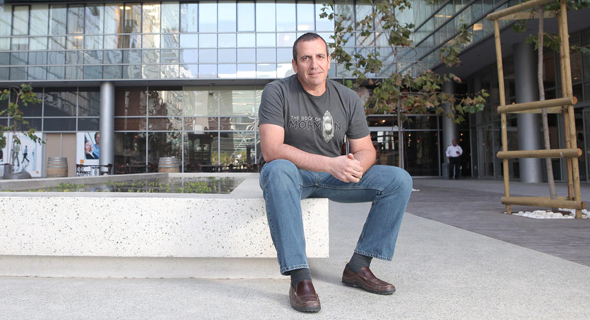 Mellanox CEO Eyal Waldman. Photo: Orel Cohen
On Wednesday, activist investor Starboard Value LP sent a letter to Mellanox's shareholders, announcing its intention to replace all current nine members of Mellanox's board of directors with its own candidates. "Mellanox has been plagued by years of dismal stock price and operating performance, poor execution, excessive stock-based compensation," the letter said. Starboard acquired a 10.7% stake in Mellanox in November 2017.
In Thursday's earnings call, Mr. Waldman referred to Starboard's announcement briefly. "We are committed to taking the appropriate steps to ensure that Mellanox is best positioned to provide high return to our shareholders," he said.
Mr. Waldman added that in May 2017, Mellanox began a comprehensive cost review process, and a review of the company's strategic priorities and investments. "This review involved a portfolio rationalization process, including ceasing investments in the new generation of the network processing unit, the NPS product family," he said.
Earlier this month, Mellanox announced it will discontinue its 1550nm silicon photonics development activities, effective immediately, cutting around 100 jobs in the U.S. The company said it decided to cut the unit since it proved less accretive than hoped, and estimated the closure will not have an impact on the revenues of the fiscal year 2018.
The closure announcement came a day after Starboard sent a scathing letter to Mellanox's board, criticizing the company's excessive spending on research and development and administrative expenses, and urging Mellanox to trim down those expenses. "Despite an extremely strong product and technology portfolio, Mellanox has been one of the worst performing semiconductor companies for an extended period of time," the letter read. Starboard also voiced doubts about Mellanox's ability to reach the goals it outlined for 2018 in its December financial reports.
In Thursday's reports, Mellanox announced it has achieved record quarterly records of $238 million for the fourth quarter of 2017, a 7% growth year-over-year, surpassing analyst expectation of $235. Mellanox also reported record annual revenues for 2017, $864 million compared to $861 forecasted by analysts. Non-GAAP net income per diluted share was $2.28 in the fiscal year 2017, versus forecasts of $2.12. For 2018, Mellanox is forecasting revenues of $970 million to $990 million.