TATA Enters Partnership with Israeli Water Generation Company Water-Gen
TATA and Water-Gen will launch a joint water generation pilot. The companies signed an agreement during a state visit to India by Israeli Prime Minister Netanyahu
Indian engineering and infrastructure company TATA Projects Ltd. signed a memorandum of understanding (MoU) last week with Israeli clean water generation company Water-Gen Ltd. to run a pilot program for water production in India, TATA announced in a statement Tuesday. The agreement was signed during an official state visit to India by Israeli Prime Minister Benjamin Netanyahu. Water-Gen officials had participated in the visit as part of the Israeli delegation.
For daily updates, subscribe to our newsletter by clicking here.
Founded in 2009 and headquartered in the greater Tel Aviv metropolitan area, Water-Gen develops and manufactures atmospheric water generators (AWG) able to extract clean and safe drinking water from the humidity in the air. It is a low cost, energy efficient, fast and accessible technology that can provide safe water in places suffering from water shortage or lacking water infrastructure. Water-Gen's large-scale AWG unit can produce up to 6,000 liters of water daily, while the medium scale AWG unit produces up to 600 liters of water daily.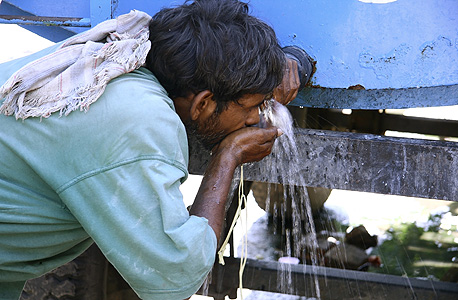 Drinking water in India (illusration). Photo: Shutterstock
TATA Projects is one of India's leading infrastructure companies, executing large industrial and urban infrastructure projects in areas such as transportation, environment, power generation and distribution, urban infrastructure and water service.
According to the agreement, TATA and Water-Gen will create a joint entity in India to oversee local manufacture and installment of AWG units, in accordance with the Indian government's Make in India guidelines. The pilot program is set to install mid-size GEN-350G units. The companies did not share additional technical or financial details of the deal.
In its annual report for 2016, the United Nation's water security organization, WaterAid, reported that 75.8 million people in India had no access to clean and safe drinking water. According to the World Resources Institute, 203 million Indians live in extremely water-stressed areas.
In November, Water-Gen's President and majority shareholder, Michael Mirilashvili, presented its technology to Indian Prime Minister Narendra Modi during the Global Entrepreneurship Summit hosted in Hyderabad. "We can bring millions of Water-Gen units to India to produce an endless supply of clean and safe drinking water because our technology allows to extract water directly from the atmosphere," Mr. Mirilashvili said in a November statement. Mr. Mirilashvili is an Israeli and Georgian businessman who is one of the founders of Russian social network Vkontakte.
"As part of our Water Business Unit, which is run as a Social Business initiative, we are happy to bring this innovative technology to India," Tenny Cherian, Chief Operating Officer of TATA Projects, Quality Service & Water Division, said in a statement. "We look forward to working with various government, public, private, NGO sector partners to deploy these water units across India, with initial focus being in rural India. We do believe that this will help reduce water stress and scarcity while ensuring quality and availability of safe drinking water for India."