India and Israel $500 Million Missile Deal "Back On the Table," Says Israeli Prime Minister
During his state visit to India, Israeli Prime Minister Benjamin Netanyahu announced that a deal for the purchase of Israeli anti-tank missiles has been revived. Signed in 2016 the deal was retracted by the Indian government earlier this month
A previously canceled $500 missile deal between Israel and India is "back on the table," Israeli Prime Minister Benjamin Netanyahu said in a media briefing on Wednesday during a six-day state visit to India.
For daily updates, subscribe to our newsletter by clicking here.
In 2016, the Indian government agreed to purchase 8,000 'Spike' anti-tank missiles and 300 missile-launchers from Israeli defense contractor Rafael Advanced Defense Systems Ltd., a government-owned company.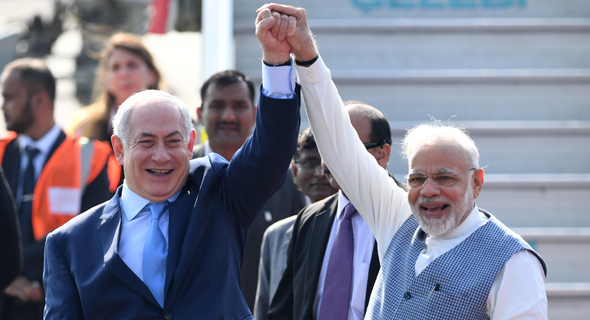 Israeli Prime Minister Netanyahu and Indian Prime Minister Modi. Photo: AFP
Rafael has formed a joint venture with India-based industrial firm Kalyani Group to manufacture the missiles in India, in adherence to the Indian government's 'Make in India' guidelines. The production plant, located near Hyderabad, was inaugurated in August.
The deal had been considered a sign of growing defense cooperation between the two countries, but earlier this month, and shortly before Mr. Netanyahu embarked on his visit to India, the Indian Defense Ministry announced the deal's retraction.
Indian press first reported on India's intention to back away from the deal in November. According to a report by The Indian Express citing sources in India's Defense Ministry, the ministry opted to have the country's domestic defense research agency develop similar anti-tank missiles.
Rafael confirmed the deal was off in early January, saying the deal had been terminated before a contract was signed and despite the fact that the company met all of the client's requisites.
Mr. Netanyahu is the first Israeli prime minister to visit India in 15 years. Indian Prime Minister Narendra Modi visited Israel in July 2017 and was the first Indian prime minister to do so since India's 1947 independence.
During the visit, which began Sunday, Mr. Netanyahu signed agreements to collaborate with the Indian government on cybersecurity, energy, the film industry, and air transportation, according to statements by the office of the Israeli prime minister and by the Indian Ministry of External Affairs. Messrs. Netanyahu and Modi also launched an Israel-India Industrial research and development fund, called I4F, and designed to promote technological collaboration between the two countries.