Interview
Supercharged by Softbank, Cybereason Plans Aggressive Ramp Up for 2018
The company plans to nearly double the number of employees to better serve new clients and look into new domains including autonomous vehicles, blockchain and the Internet of Things
Aided by investor Softbank Corporation, cybersecurity company Cybereason Inc. intends to hire 300 new employees over 2018, bringing its employee count to 700, co-founder and CEO Lior Div said in an interview with Calcalist Wednesday. Softbank helps Cybereason connect with big clients around the world, Mr. Div said.

For daily updates, subscribe to our newsletter by clicking here.

Established in 2012, Cybereason specializes in endpoint detection and response software. Its automated hunting engine monitors behavioral patterns to detect cyber attacks. The company is headquartered in Boston, with a research and development center in Tel Aviv and offices in London and Tokyo.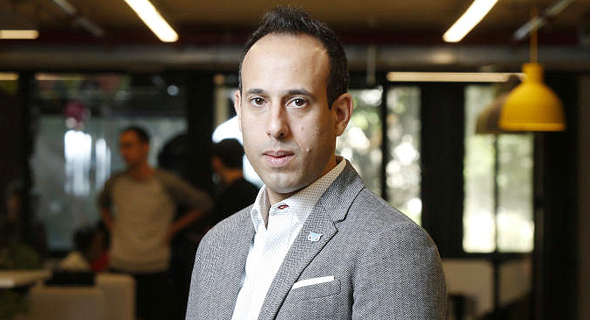 Cybereason co-founder and CEO Lior Div. Photo: Amit Sha'al
In June 2017, Softbank invested $100 million in the company, bringing Cybereason's total equity funding to $189 million. Previous investors also included aerospace and defense company Lockheed Martin venture capital firm Charles River Ventures, Boston-headquartered Spark Capital, and aerospace and defense company Lockheed Martin.
"Our relationship with Softbank goes way beyond traditional investor relations," Mr. Div said. "We have constant access to the corporation's management. Their contribution is about much more than just money. Aside from their guidance, our partnership with Softbank connected us to leading companies around the world."
New customers now require the steep increase in the number of people employed by Cybereason, Mr. Div said. The company also needs fresh talent to tackle new domains it wishes to look into, including autonomous vehicles, blockchain and the Internet of Things.
As part of the expansion, Cybereason's Tel Aviv center will relocate in April to a 42-story high skyscraper in Tel Aviv's center. The company leased three of the top stories in the tower, spanning some 54,900 square feet (5,100 square meters).
The company intends to hire mainly server developers, customer experience developers and automation developers, algorithm engineers, and Java and C++ developers. Cybereason is also looking for software testers and development managers.
"We're operating in a $20 billion market now," Mr. Div explained. "Our product is in demand and we need to grow as fast and as aggressively as we can to serve as many customers as possible. For this to happen we need to have people on the ground in target markets." Cybereason is focused on hiring people who can answer the needs of clients in those markets.