The Helmsley Trust Grants $18 Million to Build New Research Tower on Haifa Hospital Campus
The American charitable trust will fund the construction of a 20-story medical research tower to serve Rambam hospital, the University of Haifa, and the Technion-Israel Institute of Technology
The Leona M. and Harry B. Helmsley Charitable Trust has granted $18 Million to build a 20-story medical research tower on the Rambam Health Care Campus (Rambam Hospital) in Haifa, according to a statement issued by Rambam hospital Tuesday. The tower, to be named the Helmsley Health Discovery Tower, is a joint venture of Rambam hospital and the University of Haifa.

For daily updates, subscribe to our newsletter by clicking here.

The two institutions first signed an agreement to collaborate on the establishment of a medical research tower in April.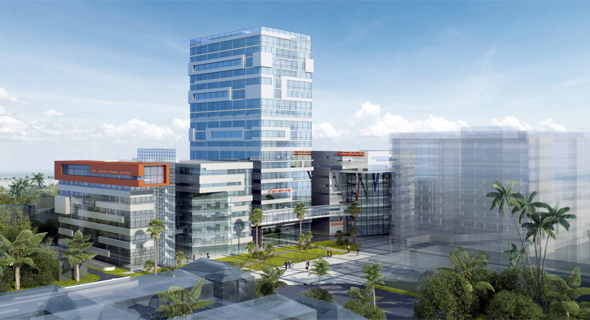 An illustration of the Rambam research tower. Image: Mochly-Eldar Architects

The Helmsley Charitable Trust has committed more than $2 billion for a variety of charitable purposes since it began awarding grants in 2008, a year after the passing of hotel owner and real-estate billionaire Leona Helmsley. Despite having donated millions of dollars to charity in her lifetime, Ms. Helmsley was widely considered a contested symbol of mean-spirited entitlement, referred to as "The Queen of Mean" in a 1990 biographical television special by the same name. Ms. Helmsley, who once served 18 months in federal prison for tax fraud, has left the majority of her fortune to her namesake trust.

In its initial round of major grants, the trust donated nearly $50 million, primarily to fund medical research and health institutions. In 2010, Helmsley launched its Israel program, awarding grants to healthcare institutions and supporting medical, scientific, and technological research. The program has committed over $150 million to projects and organizations in Israel.

The new tower is intended for medical research and will be used by the University of Haifa, Rambam Hospital, and the Technion-Israel Institute of Technology. It will host Rambam's ophthalmology and gastroenterology clinical facilities and several of the University of Haifa's research centers, including the Center for Translational Research in Health Sciences and Public Health, and the Center for Evidence-Based Nursing Research, according to Rambam hospital. The tower will also host the Clinical Research Institute at Rambam's (CRIR) centers of research excellence, in the fields of brain and neuroscience, cancer, cardiology, diabetes, nephrology, human genomic medicine, medical devices, and minimally invasive surgical advances. Additionally, the tower will offer space for startups and startup incubators to facilitate collaboration with health science entrepreneurs.

Founded in 1938, Rambam Hospital is the largest medical center in northern Israel and the fifth largest in Israel. The hospital also serves as an academic teaching hospital, with the Technion's medical school located adjacent to the hospital.

"The Helmsley Health Discovery Tower will improve access to healthcare in the northern periphery of Israel, strengthen the region, and support greater collaboration among Rambam, University of Haifa, and the Technion—three of Israel's great institutions—as well as with the medical and biotech industry," Sandor Frankel, a trustee of the Helmsley Charitable Trust, said in a statement.