Technion, Shantou Inaugurate Joint Tech University in China
Construction of the Guangdong-Technion Israel Institute of Technology began in 2015, and the first wave of undergraduates has already enrolled
On Monday, Israel-based research university the Technion – Israel Institute of Technology and China-based Shantou University inaugurated a joint venture, the Guangdong-Technion Israel Institute of Technology.

For daily updates, subscribe to our newsletter by clicking here.

"China offers the Technion a broad platform to realize its academic excellence," said Guangdong-Technion's Chancellor Li Jiange at the ceremony. "We, in turn, must learn from the Technion and Israel what innovative thinking is."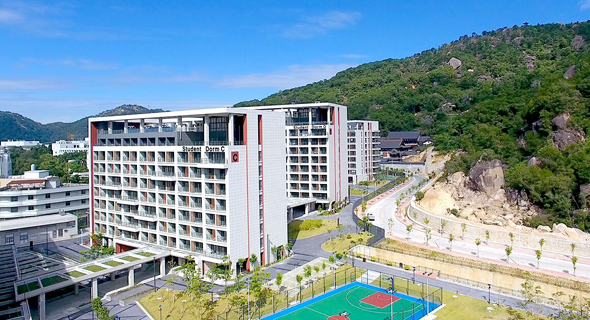 Guandong Technion Campus. Photo: Guangdong-Technion Israel Institute of Technology

"The opening of the Technion campus in China is a testament to the excellent relations between China and Israel," said Aaron Ciechanover, a chemistry Nobel laureate and the Technion's official at the new institute. "There is no doubt that all parties involved in the project will reap considerable benefits from it."

Located in the coastal Guangdong province in southeast China, the new research university is the result of a cooperative agreement signed between both academic institutes in 2013.

Construction began in 2015 after approval was received from the Chinese Ministry of Education, with the Chinese government and the local municipal governments partly funding the project. Former Israeli president Shimon Peres led the groundbreaking ceremony together with Hong Kong-born entrepreneur Li Ka-Shing.

Mr. Li was instrumental to the partnership. His charity organization, the Li Ka Shing Foundation, is a long time donor to Shantou University, and in 2013 he donated $130 million to support the establishment of Guangdong-Technion. On Tuesday, he announced he will donate an additional $1.5 million.

Both the teaching and the research work at the new institute are in English. Currently, the university offers programs in chemical engineering, material engineering and biotechnology and food engineering, and the first wave of undergraduate students enrolled in October. As of now, graduates will receive a Technion diploma.

This is a second joined academic venture for the Technion. In 2011 the institute partnered with U.S.-based Cornell University to launch Cornell Tech, which offers both masters and postdoctoral programs. After several years of residing in a temporary location in Manhattan, in August Cornell Tech moved to its permanent residence on Roosevelt Island in New York.

Tel Aviv University also recently announced an academic collaboration with a Chinese institute. In May the university launched a $300 million research center with Beijing-based Tsinghua University. Called XIN, the center is based in both institutes and offers graduate students the opportunity to perform collaborative research into nanotechnology, particularly in medical and optics applications.