As Bitcoin Seems to Rally, Bitcoin-Related Trading Picks Up on Tel Aviv Stock Exchange
Corresponding to bitcoin's current bullish trend, two companies made cryptocurrency-related announcements and saw stock value increase
Two Tel Aviv-listed companies made cryptocurrency-related announcements this past week and have seen their stock value jump within a few hours, echoing a trend seen on the Tel Aviv Stock Exchange in past months. Media company Algomaizer Ltd. made its announcement Wednesday and was up 9.28% by market close, while Chiron Refineries Ltd. closed with a 56.39% increase Tuesday after its own announcement.

For daily updates, subscribe to our newsletter by clicking here.

In April 2017, when bitcoin was worth a little more than $1,000, Japan recognized the digital coin as a legal tender, creating a demand in the country. Since then, global interest in bitcoin has been steadily on the rise, and with it the coin's value. On November 29 it passed the $10,000 mark before nearly reaching the $20,000 mark on December 16. Then it dropped just as fast, reaching $10,142 briefly on Tuesday. As of Thursday, bitcoin is at $10,947.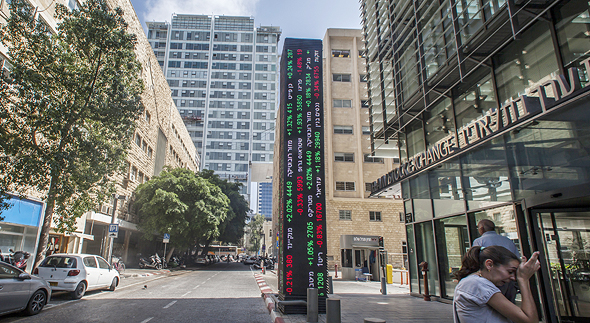 Tel Aviv Stock Exchange. Photo: Bloomberg

In October, Israeli shelf company Natural Resource Holdings Ltd. announced a potential merger with a Canadian crypto-mining company and saw its stock climb as much as 4000% on the Tel Aviv Stock Exchange by the time the deal was completed in early December. Next came Fantasy Network Ltd., which announced the hiring of a blockchain advisor and jumped by 44% and 80% over the next two days. Digital marketing company Apply Advanced Mobile Technologies Ltd. announced it intends to establish a marketing venture for blockchain and cryptocurrency and jumped 252% by market close the same day though it lost most of its stock gain over the following week.

The crypto-related hype on the exchange led Shmuel Hauser, then chairman of the Israeli securities authority, to announce the authority will not allow companies whose value is dependent on the bitcoin to be included in the exchange's indices.

Investors seemed to respond to the call, juxtaposed by the cooldown seen globally around cryptocurrency. A few days after Mr. Hauser's announcement, on December 20, Algomaizer announced in a filing that it is looking to enter the blockchain and cryptocurrency industry. The company's stock was down by 2.85% by that day's market close.

In early January the authority announced it will move to bar such companies from trading on the Tel Aviv Stock Exchange unless they have $30 million in equity and have been active for at least three years.

On Saturday, Algomaizer repeated its announcement from December, saying it is currently in talks with advisors and companies working in the domain in both the U.S. and Israel, with interest in both product development and crypto-mining agreements. Algomaizer also announced that it has finished a proof of concept for the browser add-on for digital coin trading it announced in December. It closed on a 1.94% decrease on Sunday.

On Tuesday, Chiron announced that its board approved the company's decision to enter the cryptocurrency industry and form a partnership with a company called Virtual Crypto Technologies Ltd. (VCT), which develops and manufactures both software and hardware products for buying cryptocurrency. Investors responded by sending its stock up 56.39% by market close. A few minutes before trading closed, Chiron posted a clarification to its announcement, stating that VCT was a company incorporated last week. Chiron closed Wednesday with a 17.5% decrease and trended down on Thursday.

On Wednesday, Algomaizer announced it contracted an advisor for the purpose of examining an initial coin offering, and also set up an in-company ICO team. It was up 9.28% by market close.