Exclusive
Anheuser-Busch InBev Brewing Company Buys Beverage Analytics Startup WeissBeerger
Tel Aviv-based WeissBeerger collects beer and soft-drink consumption data, providing real-time analytics to the brewing and hospitality industries
Anheuser-Busch InBev SA/NV, the world's largest beer brewer, has acquired Tel Aviv-based WeissBeerger, a beverage consumption analytics startup, according to a statement by WeissBeerger, which was emailed to Calcalist on Wednesday.
For daily updates, subscribe to our newsletter by clicking here.
The companies did not disclose the financial terms of the deal, which is estimated at tens of millions of dollars, according to two people familiar with the deal who spoke to Calcalist on condition of anonymity. WeissBeerger is expected to become AB InBev's research and development center in Israel.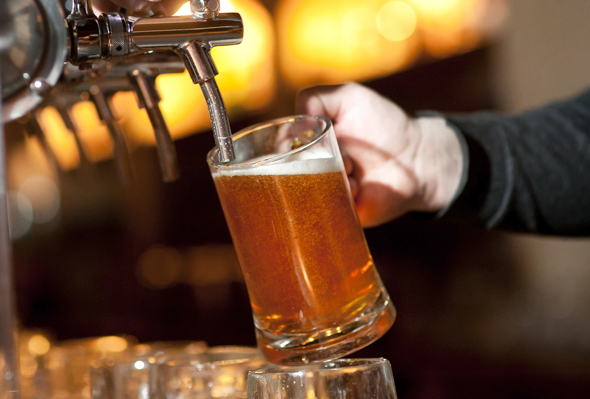 Beer. Photo: Shutterstock

The product of the 2008 merger of Belgian brewing company Interbrew with Brazil's AmBev and American brewer Anheuser-Busch, AB InBev is the world's largest brewing company, headquarters in Leuven, Belgium with additional offices in London, New York City, São Paulo, Mexico City, Buenos Aires, and Johannesburg, among other locations.

AB InBev's annual sales were valued at $45.5 billion in 2016. The company had $14.7 billion in revenues in the last quarter of 2017. Among AB InBev's brands are Corona, Budweiser, and Stella Artois. The company is listed on the Euronext Brussels, the Mexican Stock Exchange, the Johannesburg Stock Exchange, and New York Stock Exchange.

Founded in 2012, WeissBeerger developed a beverage consumption analytics application used by breweries and points of sale, such as pubs and bars, to access consumer behavior analytics in real-time. The Weissbeerger app tracks consumption via smart-taps that are connected to the beer keg, aggregating data and analyzing it to provide recommendations on waste-reduction and marketing.

WeissBeerger has raised $15 million in investment to date, the company said, from investors such as Innovation Endeavors, a venture capital firm owned by former Google CEO Eric Schmidt, and Israel Cleantech Ventures ( ICV).

Weissbeerger currently operates throughout Europe, Asia, the Americas, and Israel, with offices in Israel, the U.K., and the U.S.

"AB InBev is a truly global brewer and our partnership with them will enhance our connection with customers and consumers around the world," Ori Fingerer, Weissbeerger co-founder, said in an emailed statement. "Our partnership will allow us to access existing and new markets to grow our technology platform and analytics capabilities," Mr. Fingerer said. "AB InBev is committed to identifying disruptive technologies to better serve customer and consumer needs. We share the same passion and commitment to utilize data and analytics to help bar owners grow their business and better manage their costs as well as provide consumers with breakthrough tech-driven consumption experiences," Mr. Fingerer added.