Ping An's Global Voyager Fund Invests $25 Million in Telehealth Startup Tyto Care
China's largest insurer plans to invest up to $1 billion in early-stage startups through its global fintech and healthcare fund
China's largest insurer, Ping An Insurance Group Co of China Ltd., announced on Monday it invested $25 million in Tyto Care Ltd., an Israel-based telehealth company. The investment was made through Ping An's fintech and healthcare overseas investment fund launched in 2017.

For daily updates, subscribe to our newsletter by clicking here .

The Global Voyager Fund, as it is called, announced in May it plans to make investments of up to $1 billion in early-stage startups over the next few years.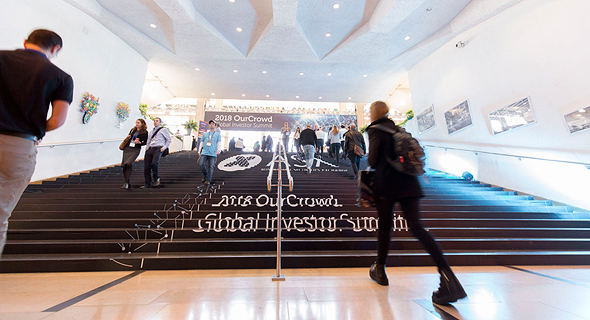 OurCrowd's Global Investor Summit in Jerusalem. Photo: OurCrowd PR

Tyto's technology is used by physicians to conduct medical examinations of patients remotely. The company will use the new funding to expand in the U.S. and to to penetrate European and Asian markets. Ping An intends to integrate Tyto's services into its own offerings in China.

Other investors in Tyto include Cambia Health Solutions, Walgreens, Orbimed, Fosun Pharma and LionBird.

Marco Heusch, the Ping An fund's managing director and chief medical officer, was a keynote speaker at the investor summit by equity crowdfunding firm OurCrowd held in Jerusalem on Thursday, where he spoke about the the potential for digital health technology to drastically reduce costs and increase access to medical care.

In an interview on the sidelines of the conference, Mr. Heusch told Calcalist that on Wednesday he had participated in a delegation of business executives that met with Israel Prime Minister Benjamin Netanyahu.

During the half-hour-long visit, Mr. Netanyahu pitched the group on the potential business opportunities that could arise from analyzing Israel's unique healthcare data.

Last week, Mr. Netanyahu revealed a plan to build a national personalized health system in Israel during at a meeting with Bill McDermott, CEO of multinational enterprise software company SAP SE. Messrs. Netanyahu and McDermott met in Davos, Switzerland during the annual meeting of the World Economic Forum.

Mr. Heusch said Ping An is the largest company in the telemedicine industry, with 180 million people worldwide using its services. The company employs or contracts 10,000 physicians who make diagnoses using data provided remotely by patients.

During his visit, Mr. Heusch has also met with a number of Israeli entrepreneurs developing medical technologies. Mr. Heusch said he was "very impressed" with the retinal imaging technology developed by Jerusalem-based Camereyes Ltd.