Home Design Company Houzz Acquires Tel Aviv-based startup IvyMark
IvyMark creates online business management and back office tools for interior designers
Palo Alto-based home remodeling and design company Houzz Inc. acquires Tel Aviv-based IvyMark, a startup developing online business management tools for interior designers, the companies announced Tuesday.
For daily updates, subscribe to our newsletter by clicking here .
The companies did not disclose the financial terms of the deal.
Founded in 2016 by Lee A. Rotenberg and Alexandra Schinasi, IvyMark, registered as Artsetters Online Web Ltd., develops and markets an online service that helps interior designers to manage vendor purchases.
In a Monday interview with Calcalist, Houzz co-founder and CEO Alon Cohen said the acquisition is part of company's vision to "bring the industry into the 21st century."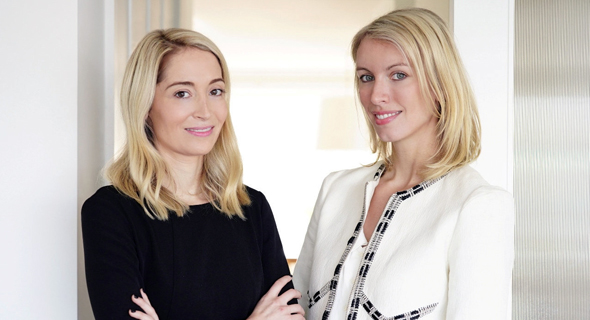 IvyMark founders Lee A. Rotenberg (left) and Alexandra Schinasi. Photo: Tory Williams

IvyMark raised $2.9 million in a seed funding round from Disruptive Technologies Venture Capital, Pitango Venture Capital and San Francisco-headquartered venture capital firm NFX.

In an email interview with Calcalist Tuesday, Ms. Rotenberg said the acquisition came as a surprise. "We actually never thought about getting acquired. We were heads down focusing on building IvyMark and planned to raise our Series A," she said. According to Ms. Rotenberg, the acquisition will allow IvyMark to reach a broader customer base.

Houzz's online and app service lists over 1.5 million home improvement professionals in over 65 categories, including over 200,000 designers.

Founded in 2009 by Mr. Cohen and Adi Tatarko, Houzz was built as an answer to the problems the Israeli-born married couple encountered when designing their Palo Alto home, having no convenient way communicate their vision to professional designers. In June, the company announced a $400 million funding round with a $4 billion valuation, bringing its overall funding to $613.6 million.

The company currently operates through offices in the U.S., London, Berlin, Sydney, Moscow, Tokyo and Tel Aviv.

Following the acquisition Houzz will expand its Tel Aviv office, relocating to an office space that can accommodate up to 100 employees, Mr. Cohen said.

Houzz is currently actively recruiting in Tel Aviv, seeking to add software developers, graphic designers, product managers, and data scientists to its team, the company said in a statement.