In Stark Contrast to Past Statements, Bitcoin Company Says No Steps Taken to List in Toronto
After the Israeli regulator moved to bar cryptocurrency-oriented companies from the Tel Aviv Stock Exchange, Blockchain Holdings' CEO Roy Sebag announced the company has received preliminary approval for listing on Toronto and Nasdaq
Blockchain Holdings Ltd. has not taken any action to list on the Toronto Stock Exchange or on any other exchange, the company announced Tuesday, in stark contrast to statements made by CEO Roy Sebag last week at a press conference in Tel Aviv.

For daily updates, subscribe to our newsletter by clicking here.

Blockchain Holdings was created last year after Israeli shelf company Natural Resources Ltd. merged with Quebec-based Backbone Hosting Solutions, which operates several cryptocurrency mining farms in Canada. The merger saw the company's stock rocket by thousands of percentages on the Tel Aviv Stock Exchange, but the hype around the company and several other Tel Aviv-listed companies that announced a pivot to cryptocurrency alarmed Israeli regulators.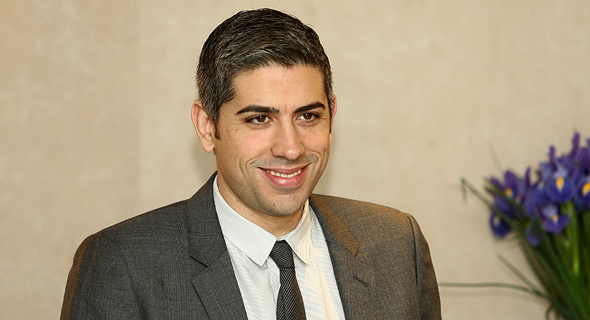 Roy Sebag. Photo: Orel Cohen

In December, the Israel Securities Authority announced it would move to bar companies whose market value is heavily dependent on cryptocurrencies from listing on the exchange. In early January, the authority submitted a plan to block all such companies unless they have $30 million (NIS 100 million) in equity and have been active for at least three years.

A spokesman for Blockchain Mining commented at the time that the company would have over $30 million in equity after the merger, but would probably not be considered as operational for the required duration.

"By July of this year, the company is expected to be traded on the Toronto Exchange, as well as an ADR on Nasdaq," Mr. Sebag announced last week, adding that while there are still several more technicalities to complete, the company has "received preliminary approval."

In Tuesday's filing, which is signed by Mr. Sebag himself, the company states that "last week, following a press conference the company held on January 30, newspapers published several reports, including reports about the company's intention to list on the Toronto exchange and Nasdaq within six months."

"The company wishes to clarify that though Blockchain Holdings is examining its options of listing on foreign exchanges, at the time of the current filing the company's board of directors did not make any decision regarding the matter. Furthermore, the company did not submit any registration statements to any such exchanges, and can not yet say if it will."

The company also added that its stock has been available as ADR in New York for years.

Blockchain Holdings' ADR is not listed on a specific exchange, but traded in the over the counter market.