Teva Executive Calls Company's Fourth Quarter "Fairly Good"
Following the publication of the company's reports, S&P Global downgraded Teva's corporate credit rating to junk bonds
Teva's last quarter was "fairly good," Teva's chief financial officer Michael McClellan said in an interview with Calcalist Thursday. The same day the generic drugmaker published its fourth quarter and annual reports, yet again recording diminishing revenues and lowering its financial outlook for 2018. The company has also recorded a $17.1 billion goodwill Impairment, mainly on its generic U.S. business.

"We had a good quarter—we were able to come within our guidance," Mr. McClellan said.

For daily updates, subscribe to our newsletter by clicking here.

In December, Teva announced an aggressive reorganization that will see it cut 14,000 jobs and sell or shut down 20-25 manufacturing facilities, a result of the heavy debt load the company carries, combined with a challenging competitive landscape. "The short message is that everything is on plan, everything is on target," CEO Kåre Schultz said as part of the company's earnings call with analysts Thursday.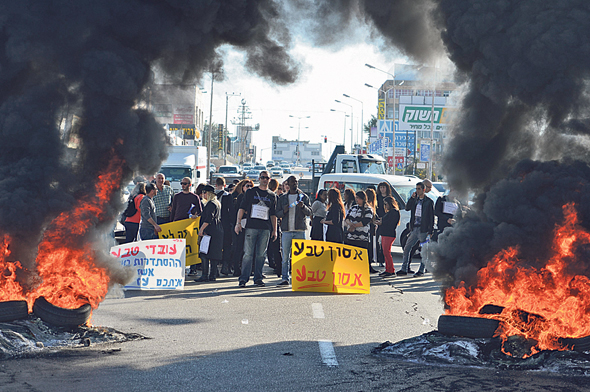 Demonstration against Teva's layoffs in Ashdod in December. Photo: Avi Rokach
Teva's GAAP net loss for 2017 was $16.3 billion, mostly due to a fourth quarter GAAP net loss of $11.41 billion, compared to 2016, when Teva finished the year with a profit of $311 million. Revenues in the fourth quarter of 2017 were $5.5 billion, down 16% compared to the fourth quarter of 2016, primarily due to generic competition for Teva's specialty medicines segment, and specifically its multiple sclerosis drug Copaxone.
Global Copaxone revenues for the fourth quarter were $821 million, a 19% decrease year to year, mainly due to generic competition. In the U.S., the drug's main market, revenues for the fourth quarter decreased by 25% as Mylan's generic version, approved in October, conquered turf.
The blow to Copaxone's profitability was smaller than expected, Mr. McClellan said in the interview with Calcalist, calling the drug sales "strong." Combined with lower expenses, he added, the company's fourth quarter "was fairly good."
Following the reports, S&P Global downgraded Teva's corporate credit rating to junk bonds, giving the company a "stable outlook." The agency also lowered its issue-level rating on Teva's senior unsecured debt.
Teva's debt is mainly the result of a $40.5 acquisition of Allergan's generic business Actavis in 2016, for which the company took out extensive loans. The acquisition was meant to make Teva the unequivocal leader in the generics field.
"Two years ago, the outlook, not only for Teva and Actavis but also the general generics market, was quite different," Mr. McClellan said. "Most analysts were very much in favor."
As Teva is the biggest generic player, it was very vulnerable to the changes in the market, Mr. McClellan said.
"It turned out, we ended up buying at the peak of the market, and the market has changed since."
But the reorganization plan could turn Teva around, he said. "We know that we are facing headwinds, but we're taking the tough steps we need. And when the new products in our specialty, like Austedo, will start to grow, and we combine that with the stabilization of the generics market—we feel like there are brighter days ahead for Teva."