Activist Investor Jana Partners Takes Stake in Teva, Report Says
The firm has taken a position in the troubled drugmaker during the fourth quarter of 2017, believing CEO Kåre Schultz's cost-cutting measures could turn the company around, according to a Bloomberg report
Activist hedge fund Jana Partners LLC has purchased a stake in Teva Pharmaceutical Industries Ltd. during the last quarter of 2017, Bloomberg reported Monday, quoting a letter sent by the firm's investors.

For daily updates, subscribe to our newsletter by clicking here.

Teva's stock traded at $21.02 per share on NYSE at Monday's market close, up 4.2% from Friday's market close.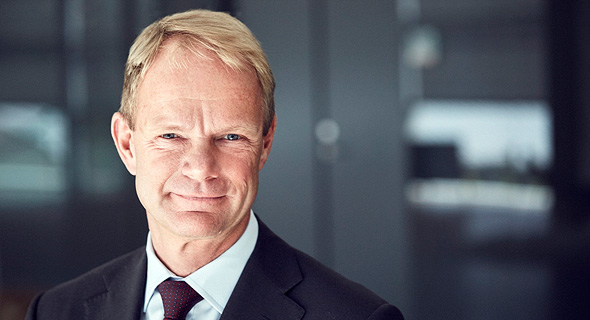 Kåre Schultz. Photo: PR

In July 2015 Teva announced its intention to acquire Allergan's generic business Actavis for $40.5 billion, taking out $33.75 billion in loans to finance the cash part of the acquisition and paying the rest in restricted shares. At its August 2015 peak, Teva traded at around $70 per share. By the time the acquisition was completed, in August 2016, Teva's share price was down to around $54.

Teva's woes continued to pile. In February 2017 CEO Erez Vigodman stepped down amidst growing criticism of the company's management strategy, starting a seven-month period with an interim CEO at the helm of the company. Rising pressure in the generic drug market combined with the loss of Teva's patents for it blockbuster drug Copaxone have sent the stock tumbling. Several consecutive quarters of lowered financial outlooks caused investors to doubt Teva's ability to haul its debt load and contributed to the uncertainty surrounding the stock.

On July 23, 2017, Teva announced it would lay off some of its Israeli employees as part of a global reorganization in an attempt to improve its competitiveness. Within a week, Teva's price per share on NYSE went from $32.3 to $20.6, and kept falling. In September, the stock showed a brief recovery after the company announced it appointed pharma executive Kåre Schultz as CEO. In his previous role Mr. Schultz served as the CEO of Copenhagen-based pharmaceutical company H. Lundbeck A/S.

Mr. Schultz stepped into the position on November 1. The next day, Teva published its third quarter reports, once again lowering both its forecasted revenues and its financial outlook. Teva's stock traded at $11.23 on that day's market close, its lowest in 15 years.

The company unveiled an outline for its reorganization in late November, revealing it will downsize, divest non-core assets and pivot back to a more generic focus. In December the full plan was presented, with Mr. Schultz announcing the layoffs of 14,000 global employees and the closure of multiple manufacturing plants in an attempt to reduce the company's cost base by $3 billion by the end of 2019.

"The audacity of the restructuring plan by new CEO Kåre Schultz in December grabbed our attention and we quickly built a long position," Jana Partners said in the letter, as quoted in Bloomberg.

Jana Partners stated that after avoiding an investment in Teva for years due to the drugmaker's reliance on Copaxone, the recent cost-cutting measures announced by CEO Kåre Schultz's in December led the firm to believe Teva's stock could rise to $30 per share if the reorganization plan is implemented as presented, according to the report by Bloomberg.

On Thursday, four of the largest hospitals in the U.S. announced they will establish a new, not-for-profit generic drug manufacturer in response to the country's rising drug prices and consistent shortages of drugs. Following the announcement, investors have sent the stocks of large generic drugmakers down across the board down, with Teva taking a dip as well.

On Monday, Teva announced its severe asthma drug candidate reslizumab did not meet its primary endpoints during a phase 3 clinical trial. Teva currently markets the drug only in an IV form. If successful, Teva would've been able to market the drug as an injection, reaching a much larger market.