eBay Unveils Personalized Fashion Design AI
The new algorithm is currently being tested at eBay's Israel R&D center, and a controlled pilot will be launched among Israeli shoppers this year
Online marketplace eBay is one of the most popular places for people looking to update their wardrobe, but soon customers looking for that special something might just be able to have it custom-made themselves—with a little help from eBay's new artificial intelligence system.

For daily updates, subscribe to our newsletter by clicking here.

The company developed a new AI algorithm capable of automatically designing custom-tailored apparel for eBay shoppers, the company's chief scientist in Israel Kira Radinsky said at a press conference Tuesday. The algorithm was created by eBay's Israeli research and development center.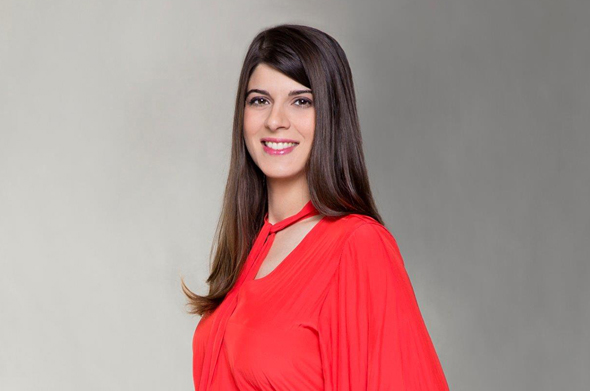 Dr. Kira Radinsky. Photo: Inbal Marmari

Ms. Radinsky, eBay's director of data science, earned a bachelor's degree in computer science from Israel's Technion at the age of 17. Ms. Radinsky started working at eBay when the predictive marketing startup she co-founded, SalesPredict Ltd., was acquired by eBay in 2016. She first made global headlines after developing an algorithm that analyses news and social media to predict potential disasters, succeeding in predicting Cuba's first cholera episode in 50 years.

The technology uses two components, Ms. Radinsky said: one that uses deep learning algorithms to study all the clothes sold on eBay over a decade and creates images of new ones, and one that identifies trends based on user purchases.

Buyers using the assistant can choose one of the images created and eBay will connect them potential retailers that can create custom-made items for them. Each retailer submits the costs and timeframe for the item to be made, and the user can then choose the best offer.

A significant number of people will pay the higher price entailed for such clothes, Ms. Radinsky said. Ebay is also considering an approach of creating and marketing clothing collections based on the output of the new technology, to be offered for a lower price than the custom made items.

"If our system creates an item and predicts many people will like it, we can approach our partners and have them create a collection," she explained. "We are testing both approaches as in-house pilots to see which one is better, and in the upcoming year we will launch a controlled pilot in Israel."

In August 2017 Amazon announced it has several teams working on machine learning algorithms that can potentially generate new clothing images after studying a particular style of fashion, and on algorithms that can analyze images and deduce whether a certain style is in fashion or not.

Ms. Radinsky elaborated on the Israeli center's other developments. One new algorithm enables eBay to predict, with an accuracy of several days, the exact time at which a buyer will receive a package. "We base it on the size of the product, the identity of the seller, the location of the buyer and data such as the weather," she explained. The system also studies packages with similar characteristics to make a more accurate prediction.

Another algorithm attempts to predict which tech products will be a hit on the market by analyzing social media and news, with a focus on technology analysts. "The system identified several such patterns for eBay, with 90% accuracy for tech products," Ms. Radinsky said.

An additional development is a system that generates automatic product descriptions. The algorithm studies the descriptions of high selling items to create texts that have a higher rate of success.

"The objective is to making finding a product easier," Ms. Radinsky explained. "Ebay has a catalogue of 1.5 billion products, but sometimes they can be hard to find, because the sellers don't always describe them well."

In November, Calcalist reported that Amazon is planning to set up a shipping center in Israel, citing sources. The move will enable the company to increase its market share among Israeli consumers, which spent $3.36 billion on online shopping in 2016, according to Paypal data, and were the third largest per-capita online international consumers in 2015, according to OECD data. In 2017, israelis recieved 61 million packages weighing over 10,800 tonnes from retailers abroad, a 15% increase from the year before, according to an annual report published by the Israeli national postal service on January.

Every two seconds an Israeli customer buys a product on eBay, and every 3.5 seconds an Israeli seller sells a product overseas, said at the conference Elad Goldenberg, head of eBay's Israel business unit. He also revealed that 47,000 new buyers from Israel joined eBay in 2017, and 142,000 people in Israel downloaded the company's app.