Online Shopping in Israel Up 15% in 2017
AliExpress shipped over 50% of all packages delivered to Israelis in 2017. Other favorites of local online shoppers: Next, Asos and The Book Depository
Ecommerce is a growing market in Israel in recent years, as Israelis are making more and more international online purchases. In 2017, 61 million packages weighing over 23 million pounds (10,800 tonnes) were ordered by Israelis from retailers abroad, a 15% increase from the year before, according to an annual report published by the Israeli national postal service Sunday.
For daily updates, subscribe to our newsletter by clicking here .
According to the report, the most popular sites used by Israeli shoppers in 2017 included online retailer AliExpress, with over 50% of all orders delivered to the country, and eBay. Next on the list are Next Retail Ltd., Asos and Amazon, which has recently opened offices in Israel. Leading shopping categories were fashion, homeware, gadgets, vitamins, and cosmetics. Book retailer The Book Depository Ltd. and vitamins and supplements seller iHerb Inc. are also among the favorites of local shoppers.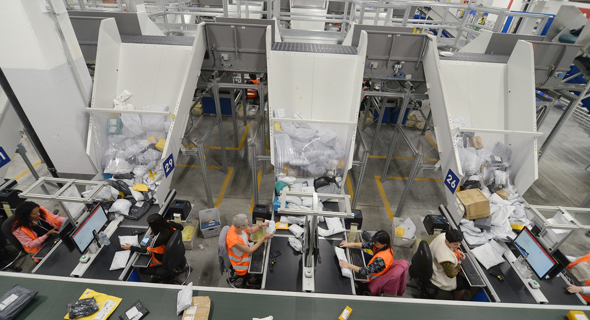 Israel Postal Company's ecommerce center. Photo: Shimon Malul
In November alone approximately 8.4 million packages were delivered in the country, compared with 7 million in the same period in 2016. December saw the delivery of 7 million packages, compared with 6.2 million last year.
In September, Israel Postal Company launched an ecommerce center capable of processing over 100 million items a year, in Modi'in, a town 22 miles (35 kilometers) southeast of Tel Aviv. According to the report, 430 new package delivery centers opened last year throughout the country, some in collaboration with private shops, in addition to 700 existing centers.