Israeli, Italian, Romanian Startups to Participate in Tel Aviv Accelerator Program by Booking.com
Six Israeli startups are among the nine startups selected by the travel ecommerce company for the program. They will participate in a three-day program and compete for grants of up to €25,000
Travel accommodation ecommerce company Booking.com revealed Tuesday the identity of nine early-stage sustainable tourism startups selected to participate in an accelerator program by Booking to be held in Tel Aviv in March. Six of the selected startups are based in Israel.

For daily updates, subscribe to our newsletter by clicking here.

Called Booking Booster Lab, the 3-day startup accelerator program offers grants of €10,000 ($12,000) and €25,000 ($30,800). As part of the program the startups will participate in workshops before pitching their scaling plans for a chance to win grants.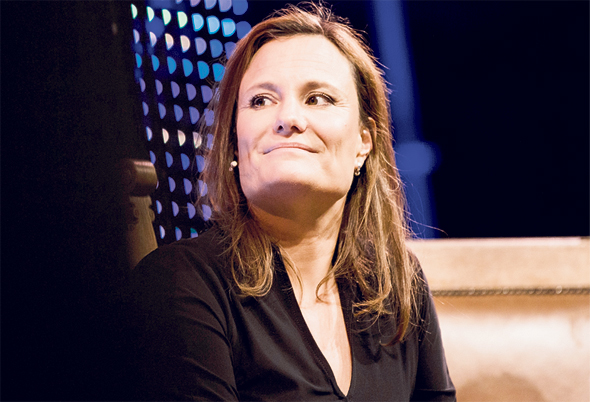 Gillian Tans, Booking.com CEO. Photo: Bloomberg

The selected Israeli startups are Culinary Ventures Ltd., known as Bitemojo, which developed an app offering off-the-beaten-track food experiences; Knowers Ltd., a digital platform where travelers can connect with locals for information, tips, and services; FarmGuests, a platform connecting tourists and agribusiness owners; AccessibleGO, a travel platform for people with disabilities; Paratek, which aims to make outdoor activity such as trekking accessible to physically impaired people; and Trailze, which aims to make outdoors activities approachable for the non-adventurous.

The other participating startups are Romanian company Questo, developing an app offering city tours curated by locals; Italian company Citynsider, which created an app for connecting with other travelers and sharing travel tips; and Greek solar energy startup Lightheat.

"Travel and technology go hand-in-hand," David Vismans, chief product officer at Booking.com, said in a statement. "With our Booster Labs, we seek to identify and support the next generation of pioneers in the field at an early stage in their development, helping to propel them further on their journey to make a measurable and meaningful impact in the rapidly evolving global tourism industry."

Founded in 1996 and headquartered in Amsterdam, Booking.com processes more than 1.5 million room night reservations every day at more than 1.4 million properties worldwide. The company was acquired by U.S.-based The Priceline Group in 2005 and operates as a Priceline subsidiary. It now employs more than 17,000 employees in 198 offices in 70 countries worldwide.

A month later, Booking.com announced it has leased seven office spaces at a central Tel Aviv coworking center operated by Mindspace Ltd. The Tel Aviv offices, rented for a five-year period, are designed to host about 40 employees.