Intel Leads $50 Million Investment in Public Transit App Moovit
Moovit's free app offers real-time public transit information to a global user base of over 120 million people in 2,000 cities and 80 countries
Israel-based public transit app developer Moovit App Global Ltd. raised $50 million in an investment round led by Intel's venture arm Intel Capital, the company announced Wednesday.
For daily updates, subscribe to our newsletter by clicking here.
Moovit's free app offers real-time public transit information to a global user base of over 120 million people in 2,000 cities and 80 countries.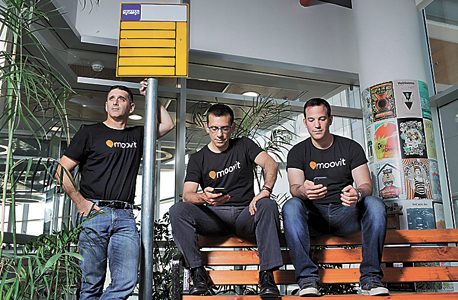 Moovit co-founders Roy Bick, Yaron Evron and Nir Erez (left). Photo: Amit Sha'al

Founded in 2012 and based in Ness Ziona, a town in central Israel, Moovit currently employs around 100 people. The company raised $133 million to date.

Moovit uses data collected from users to track the location of buses and trains. The company offers the information to cities and transit agencies under the brand Smart Transit Suite. According to Moovit co-founder CEO Nir Erez, the information helps city planners adapt existing infrastructure to public needs. Moovit expects to reach 1 billion users by 2021 and expand the number of cities using its data to optimize inner-city mobility, Mr. Erez said in a statement.

In August, Intel announced it agreed to buy Jerusalem-based automotive machine vision company Mobileye for $15.3 billion. The investment in Moovit shows Intel is interested in being part of the mobility industry, Mr. Erez, said in a Wednesday phone interview with Calcalist. Possible collaborations with Mobileye in the field of autonomous vehicles are being examined, he added.

All prior investors in Moovit took part in the round including California-based Sequoia Capital, BMW's investment arm BMW i Ventures Inc., Palo Alto-based NGP Capital, Los Angeles-based Sound Ventures, Israel-based Vintage Investment Partners, Tel Aviv-based private investment fund BRM group, Gemini Israel Ventures, Israel-based Vaizra Investments and Israeli-based Hanaco Venture Capital.

Intel is at the forefront of urban transportation systems and combining Moovit's data with Mobileye's technology will prove significant in preparing the urban infrastructure for autonomous vehicles, Mr. Shashua said in a statement.