Guidance Update, Board Changes Send Chip Company's Stock Up
Mellanox has been embroiled in a control struggle with activist investor Starboard since the latter acquired a 10.7% stake in November and began pushing for operational and board reforms
On Wednesday, Mellanox Technologies Ltd. published a revised outlook for the first quarter of 2018, updating its revenues forecasts for the quarter from $222-$232 million to $240-$250 million. The semiconductor manufacturer also announced that its chief financial officer Jacob Shulman will step down in May, and that two new members will join its board of directors, bringing the number of its members up to 11.

For daily updates, subscribe to our newsletter by clicking here.

The announcements sent Mellanox up by as much as 11% in after-hours trading on Nasdaq.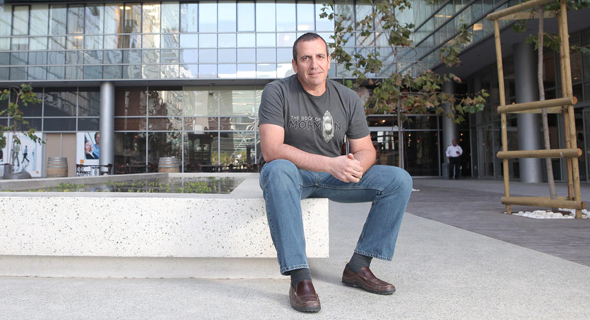 Mellanox CEO Eyal Waldman. Photo: Orel Cohen

Israel-based Mellanox has been embroiled in a control struggle with New York-headquartered activist hedge fund Starboard Value LP since the latter acquired a 10.7% stake in Mellanox in November and began pushing for operational reforms and board changes. In January, a day before Mellanox's original outlook for the first quarter of 2018 was published, Starboard announced its intention to replace all nine members of Mellanox's board with its own candidates.

Since buying the company's stock, Starboard repeatedly castigated Mellanox and its management for excessive spending on research and development. Around 75% of the chip designer's nearly 2,500 employees are engaged in research and development, according to recent filings.

Mellanox has retaliated by labeling Starboard's behavior as a risk factor to the company in its annual financial statement, released last week. The company said the "potential proxy contest for the election of directors" brought on by the activist investor could distract the company's management, with a possible outcome of significant impact on "the strategic direction of the company and the company's financial performance."

The two new board members named Wednesday are Steve Sanghi and Umesh Padval, and neither were among Starboard's suggested candidates. Mr. Sanghi is the CEO of semiconductor manufacturing company Microchip Technology Inc., which reported revenues of $3.4 billion for the fiscal year ended March 31. Mr. Padval is a partner at venture capital firm Thomvest Ventures Inc., and was formerly the CEO of video infrastructure and distribution company C-Cube Microsystems Inc. and also headed its semiconductor division.

"The Mellanox board of directors has been actively seeking highly qualified, independent directors to fill the two remaining seats on our board, and we are delighted to welcome Steve and Umesh," said Irwin Federman, Chairman of Mellanox's board, in a statement.

A replacement for Mr. Shulman has not yet been found, and Mellanox has been searching for potential successors, the company said in a statement.