Activist Investor Starboard Piles Pressure on Mellanox
For a third time in a month, Mellanox's largest shareholder sends a scathing letter, this time criticizing management's insider stock sales
Activist investor Starboard Value LP has criticized the board of directors of Mellanox Technologies Ltd. for their insider stock selling patterns in a Monday letter addressed to Mellanox Chairman Irwin Federman. Calling their selling pattern "staggering and among the most one-sided we have ever seen," the firm castigated Mellanox's board and management team for the frequency and magnitude of their sales.

For daily updates, subscribe to our newsletter by clicking here.

The New York-headquartered hedge fund has been pushing for reforms in the Israel-based chipmaker since it acquired a 10.7% stake in the company in November 2017.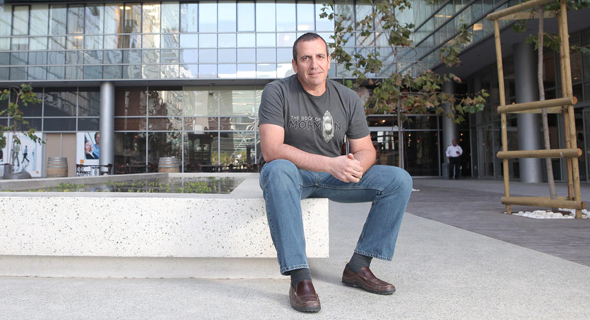 Mellanox CEO Eyal Waldman. Photo: Orel Cohen

In early January, Starboard sent a letter calling on the company's board and upper management to cut research and development and administrative expenses, referring to the company as an "underperforming" one despite a strong product portfolio. The Second letter, sent in late January to shareholders, announced Starboard's intention to replace Mellanox's entire board with its own candidates.

Last week, Calcalist reported that Starboard representatives visited Israel to meet with some of the major shareholders of Mellanox.

In Monday's letter, Mellanox expressed doubts about the board's commitment to the company and its level of confidence in management's operating plan, saying the excessive insider selling pattern, usually conducted soon after the stock is vested, contradicts the confidence management has repeatedly expressed over the last two months about Mellanox's future outlook.

Since Mellanox listed on Nasdaq in 2007, Starboard said, the company's board and management sold stock worth an aggregated $130 million, often at a loss to Mellanox's current stock price, but none have purchased Mellanox stock in open market since 2013. Furthermore, the stock selling has intensified since the company published its first annual guidance in December 2017, with members selling shares collectively worth more than $4.3 million over the past two months.

"Shareholders want a board that is just as excited to own substantial amounts of stock," Starboard wrote, adding that based on the board's behavior, "it appears that the company's current Board is not."

Established in 2002 and headquartered in the northern town Yokne'am Illit, Mellanox develops electronic components that promote the transfer of data between servers and storage devices. The company employs some 2,900 people, mostly in research and development. In January, following Starboard's first letter, Mellanox announced it would discontinue its 1550nm silicon photonics development activities in the U.S., effectively cutting 100 jobs.

Mellanox published its financial reports late January, surpassing analysts' expectations on all key metrics. In the company's earnings call, CEO Eyal Waldman referred briefly to Starboard's criticism, saying the company is "committed to taking the appropriate steps to ensure that Mellanox is best positioned to provide high return to our shareholders."