Teva Shut Down New York, Washington Offices, Says CEO
In a meeting with investors in Israel, CEO Kåre Schultz said the Washington offices were used mainly by lobbyists, for which Teva has no further need
Teva Pharmaceutical Industries Ltd. has closed its company offices in New York and Washington, CEO Kåre Schultz said in a meeting held between Teva's upper management and investors in Tel Aviv on Thursday.

For daily updates, subscribe to our newsletter by clicking here.

The New York offices were very expensive, Mr. Schultz explained, and the Washington offices were used mainly by company lobbyists. As Teva is part of the Generic Pharmaceutical Association—a U.S. trade association representing generic manufacturers and distributors—the company has no need for lobbyists of its own, and no need to keep holding those offices, he added.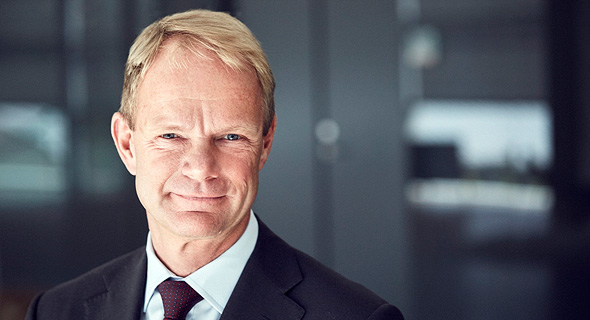 Teva CEO Kåre Schultz. Photo: PR

Israel-headquartered Teva and its shareholders have seen its stock value drop by over 50% over the past year. The company has been reporting diminishing revenues and profit margins and consequently repeatedly lowering its financial outlook for several consecutive quarters, leading the "big three" credit rating agencies to lower its corporate credit rating to junk bonds one after the other.

As a result, Teva announced in December a bullish reorganization program that includes divestment or closure of non-core assets, a slimming down of its extensive portfolio with a focus on complex, market-dominating generics and the layoffs of 14,000 employees. The company has so far managed to lower its debt load by $3.3 billion, from $35.8 billion to $32.5 billion. Most of the debt was acquired when Teva took out $33.75 billion in loans to finance the 2016 acquisition of Allergan's generic unit Actavis.

Management has repeatedly ruled out stock and equity offering as a way to generate revenue, at least at this point. Teva has no intention of making significant acquisitions in the next five years, said chief financial officer Michael McClellan at the meeting, and in the long term the company intends to try and refinance its debt for 2019-2021, market conditions allowing.

At the heart of Teva's problems are the continuously worsening conditions of the U.S. generic market due to buyer consolidation that exerts downwards pressure on drug prices, and FDA regulations that smooth the way for new generic launches in an effort to encourage competition, lowering the profitability of both existing drugs and new launches as a result. The launch of generic versions of Teva's main cash cow drug Copaxone adds to the trouble.

Mylan N.V. launched the first 40 mg/ml generic version in the U.S. in October 2017 and has already achieved a 13.5% market share, Teva's management said at the meeting. Momenta Pharmaceuticals Inc. received approval for its version earlier this month, and management expects to feel its effects within a few weeks. Therefore, Teva forecasts revenues of $1.8 billion from Copaxone in 2018, a 53% drop from 2017. In 2016, Copaxone accounted for a fifth of Teva's revenues.

Looking ahead, Teva does not foresee another dramatic drop in Copaxone sales, Mr. Schultz said, as its European sales are expected to be rather stable despite a certain erosion of prices.