People Will Forgo the Private Car Like They Did Landlines, Venture Capitalist Amir Freund Says
On Wednesday, local industry leaders gathered in Tel Aviv for a panel discussion concerning the future of the automotive industry
As automotive companies look to harness new technologies to create smarter, more sustainable mobility options, many are looking to Israel. Chief among these companies is Intel, which acquired Jerusalem-based car technologies company Mobileye for $15.3 billion. On Wednesday, local industry leaders gathered in Tel Aviv for a panel discussion titled "What's Driving the Future of Automotive," hosted by LeumiTech, the technology banking arm of Israel-based Leumi Group.

For daily updates, subscribe to our newsletter by clicking here.

Consumers take a long time to reach an informed decision when it comes to transportation, Amir Freund, a partner at Tel Aviv-based automotive fund Next Gear Management Ltd., said. The rational decision for 10%-20% of the population is to get rid of the car and use ridesharing services such as Uber, he said, adding that he believes people will eventually forgo the private car like they did landlines as soon as smartphones became a viable option.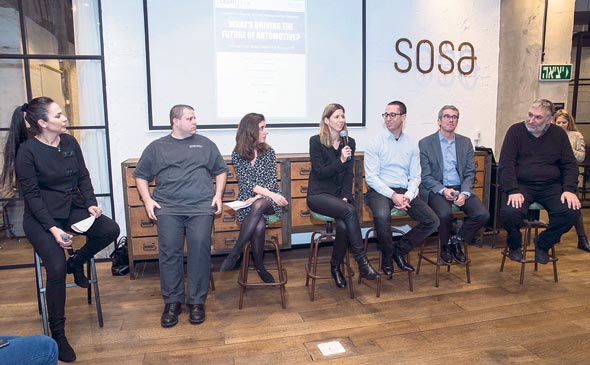 Participants of the "What's Driving the Future of Automotive" panel in Tel Aviv. Photo: Eran Lamm

From the financial aspect, the emphasis must be on lowering mobility costs, Mr. Freund, said. The average U.S family could save up to 10% of its income as a result, he estimated.

There is a global decline in auto purchases as the world moves towards ridesharing, said Roxanne Horesh, general manager at Tel Aviv-based Union Tech Ventures Ltd., the technology investment arm of the exclusive importer of Toyota and Lexus cars in Israel. In the future, no one will care about the brand of the car or the driving experience—the quality of the ride, the operating company and the passenger experience will be key, she said.

Tal Brin, head of car innovation investments at Champion Motors Ltd., the Israeli importer of Volkswagen AG, Audi AG, SEAT S.A. and Skoda, disagreed with Ms. Horesh and Mr. Freund. Mr. Brin said he does not expect a decrease in car sales in the upcoming years but believes companies should focus on finding ways to monetizing on the technology they are putting into the car and the data it collects.

Carmakers are engaged in an "arms race" to manufacture smarter, more sophisticated and safer vehicles, Yifat Oron, CEO of LeumiTech, said. According to Ms. Oron, investments in the field have gone from around $700 million in 2012 to approximately $4 billion in 2017. "A decade ago funds were reluctant to invest in automotive because the fund would most likely be shut down before it sees profits," she added.

Other participants in the panel included Ariella Grinberg-Felder, an innovation manager at General Motors, and Michael Granoff, a managing partner at Maniv Mobility Management Ltd., a Tel Aviv-based new-mobility fund.