Israel Aerospace Industries Announces Collaboration with Aerospace Accelerator Starburst
IAI will have a role in selecting startups to participate in the Starburst acceleration program, as well as offer mentorship, technological collaboration and investment
Israel Aerospace Industries Ltd. (IAI) announced Monday a collaboration with El Segundo, California-headquartered aerospace and defense accelerator Starburst Ventures. As part of the collaboration, IAI will take part in selecting the startups to participate in the accelerator. IAI will also oversee participating startups whose technology is applicable to the IAI, offering mentorship, technological collaboration and investment.

For daily updates, subscribe to our newsletter by clicking here.

Government-owned IAI is Israel's largest aerospace and defense company, developing and manufacturing defense systems for air, space, sea, land, cyber, and homeland security.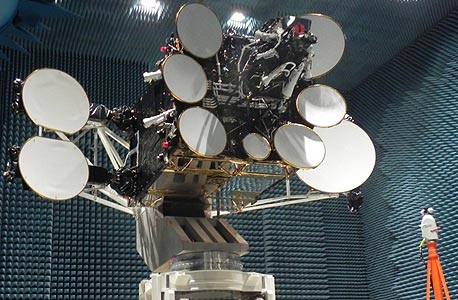 AMOS-4 satellite. Photo: IAI

Founded in 2012, Starburst is a global aerospace and aviation incubator, supporting startups seeking to commercialize their activities in the aeronautics, defense, and space markets.The accelerator operates offices in Los Angeles, San Francisco, Munich, Paris, Singapore, and Montreal, and lists aerospaces companies such as GE Aviation, The Boeing Company, Lockheed Martin Corporation, Raytheon, Thales S.A., and Airbus SE as partners. Starburst has accelerated more than 200 startups, according to Starburst data.

While IAI has been focused on research and development, the partnership with Starburst is the company's first venture into the startup accelerator model, Mr.Maayan said in an interview with Calcalist Monday. "We are leading a paradigm shift to open up to startups in Israel and abroad," Mr. Maayan said, adding that IAI is looking for advanced startups with a mature products and proven activity. Mr. Maayan said that IAI will explore investment opportunities of up to $10 million.