Daimler Leads a $10 Million Investment in Mobility Analytics Startup Anagog
Anagog collects real-time data from smartphone sensors to gain insights into the mobility status, location, and behavior of smartphone users
Stuttgart-based automaker Daimler AG and Tel Aviv-based venture capital firm MizMaa Ventures are leading a $10 million Series B investment round in Anagog Ltd., an Israeli startup developing mobility status and location analytics technology. Anagog announced the investment Monday.
For daily updates, subscribe to our newsletter by clicking here.
Founded in 2010 and based in Tel Aviv, Anagog develops technology that collects real-time data from smartphone sensor signals and analyzes it to gain insights into the mobility status, location, and behavior of smartphone users. Anagog's technology is implemented in over 20 million smartphones globally, through 100 mobile services in different domains, according to information by the company.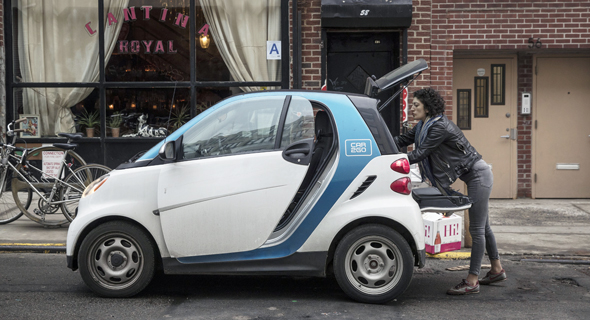 A Daimler Smart car in New York. Photo: Bloomberg

"We are working with our Round B co-leaders to conclude this financing round with more lucrative investors that can help drive forward our vision for mobility innovation," Ofer Tziperman, CEO of Anagog, said in a statement.

In November 2017, Daimler launched a Mercedes-Benz research and development center in Tel Aviv. The Tel Aviv hub is focused on digital vehicle technologies and mobility services. "Israel is among the top five ecosystems for innovation, digital technologies, new mobility services and car IT. And it is one of the top four largest talent pools in the world", Dieter Zetsche, chairman of the board of management of Daimler and head of Mercedes-Benz cars, said in a statement in November.